May 4, 2014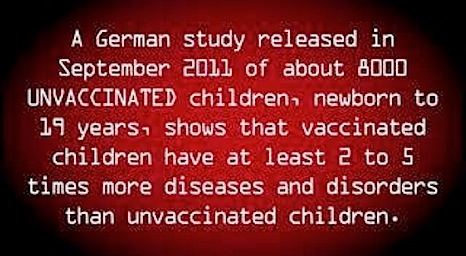 By TLB Contributor: Lori.

I'm sure many of you have been watching the news & have been seeing the recent outbreaks of Measles, Mumps & whooping cough. Who are the ones that are being blamed for these outbreaks? The unvaccinated kids of course. This has always been their scapegoat. However, is this true?
Which population are we seeing the outbreaks in? The mainstream media would love to have you believe that the outbreaks are occurring among the kids whose parents have chosen to not vaccinate.
Lets take a look at some of the stories that show that the vaccinated population are the ones that are getting sick.
Stevens Institute of Technology in Hoboken, NJ
An outbreak of mumps among New Jersey college students has highlighted the "weak sister" in the MMR vaccine.
At least eight students at the Stevens Institute of Technology in Hoboken have contracted the contagious virus despite having received two doses of the measles, mumps and rubella vaccine, according to the college.

Fordham University mumps outbreak affecting only vaccinated students; school bans unvaccinated students anyway.
One of New York's lesser-known institutions of higher learning is making headlines after 13 confirmed cases, and counting, of mumps emerged on two of its campuses, prompting school officials to impetuously ban all unvaccinated students from attending classes. But these same reports clearly indicate that all affected students had already been vaccinated for mumps, proving once again the utter uselessness of vaccines and the imbecilic tendencies of organizations chained to the vaccine status quo.
Mumps confirmed in Vigo County, advisory sent to colleges
Those affected by the mumps range in age from 17 to 50 years old. Most of those involved have had age-appropriate vaccinations, according to the Vigo County Health Department.
90% of Those Infected with Measles in New York Outbreak Are Vaccinated
According to the NY State Department of Health a whopping TWO out of 20 people infected during a measles outbreak were children whose parents had opted not to vaccinate. This, of course, means that 18 of the people infected WERE vaccinated.
Now lets look to the west coast –
In California, there is a Polio type illness that has been seen among some of the kids who have been vaccinated against Polio.
Van Haren suspects the culprit is an enterovirus. That is a family of viruses that includes polio but also the milder hand, foot and mouth disease, common in infants and children.
Unfortunately while there's a vaccine for the polio virus, "we don't have vaccines for the other enteroviruses," Van Haren said.
Many vaccine experts talk about herd immunity to prevent outbreaks & really talk down to those who choose to not vaccinate because it will affect herd immunity. For herd immunity to work according to the experts, the immunization needs to be above 90%. The outbreaks have occurred in populations where the vaccination rate has been above 90%.
Despite these repeated vaccine failures, the CDC & Departments of Public nationwide continue to say the "vaccination" is the best protection that is available from childhood diseases. A virologist for Merck has said that "vaccines are designed to fail."
A lawsuit was filed back in 2010 against Merck for fraudulently claiming the MMR vaccine is more effective than it is really. Evidently fraud is part of the scientific community when it comes to vaccines. There is a need to protect the vaccine program in the eyes of the CDC, FDA, WHO, etc.
So, American kids & other kids worldwide are needlessly being exposed to toxins like mercury, aluminum, formaldehyde, antifreeze, etc. in order to protect the profits of the big pharma. Each year thousands of kids are injured or killed after receiving vaccines.
Two major discoveries have been made apparent in the last few years. Through the Freedom of Information Act Dr. Brian Hooker obtained documents from the CDC that shows there is a statistical risk of autism because of the preservative Thimerosal.
Then documents received in the UK show that the vaccines are a hoax. That government personnel prevented safety studies, worked together to lie to the public, they know that they are a hazard to kids, that they cause disease that they are supposed to prevent & most important of all – vaccines do not work.
The truth is slowly coming out. A recent poll on FOX news showed by 70%+ of parents believed it was their right to choose whether or not vaccinate their kids. Many parents who firmly believe in vaccination or their kids are immune compromised will say that parents who choose not to vaccinate are being selfish & are putting their health compromised children at risk. They don't take into consideration that many vaccines are live virus vaccines & shed anywhere from 28 days to 6 weeks.
I believe this will be topic that will be firmly debated for some time to come. A lawmaker in DC has called for hearings to investigate the ties between the CDC & big pharma. Pray that this will happen & this will start the process of more truth coming out.
The Autism One conference is in Chicago next month. I'll be there all 5 days & I hope some of you will be able to make it.
Resources –
http://abcnews.go.com/blogs/health/2014/04/18/nj-mumps-victims-were-vaccinated-officials-say/
http://www.naturalnews.com/044087_vaccinated_students_mumps_outbreaks_Fordham_University.html##ixzz30cyhlaBd
http://fox59.com/2014/02/12/mumps-confirmed-in-vigo-county-advisory-sent-to-colleges/#7iIVEJqiQ4TaFQIR.99
http://www.dcclothesline.com/2014/04/01/90-infected-measles-new-york-outbreak-vaccinated/
http://www.usatoday.com/story/news/nation/2014/02/23/polio-like-illness-california/5703827/
http://www.calivaxchoice.com/debunking-herd-immunity/
http://www.naturalnews.com/042864_measles_outbreak_mumps_vaccines_scientific_fraud.html
http://www.naturalnews.com/gallery/documents/Merck-False-Claims-Act.pdf
http://vaers.hhs.gov/data/index
http://www.prweb.com/releases/ASOT/Thimerosal/prweb11598819.htm
http://nsnbc.me/2013/05/10/the-vaccine-hoax-is-over-freedom-of-information-act-documents-from-uk-reveal-30-years-of-coverup/
TLB Highly recommends you visit Lori at Vaccine Free Health for more great/pertinent articles and information.
See featured article here: http://vaccinefreehealth.blogspot.com/2014/05/stop-blaming-unvaccinated.html
5
/5 (
3
votes cast)