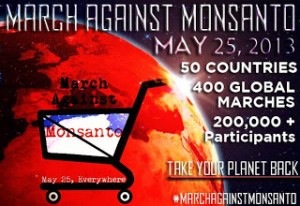 In a clear case of twisted logic and psychological
projection, elite Monsanto say anyone
interested in pure food and opposed to GMOs is "elite".
Elite Monsanto, afraid of the uprising against their toxic GM (genetically modified) food, are running out of excuses and defenses for their appalling actions. This Saturday, May 25, 2013, the March Against Monsanto will be taking place around the world, in around 50 countries with 400 marches and over 200,000 participants. It will be sending a strong and clear message to elite Monsanto and the other big Biotech firms (e.g. Syngenta, DuPont, Dow, Pioneer, Bayer, BASF, etc.) to stop tinkering with our food and spraying pesticides on it – actions which have already resulted in loss of plant biodiversity and loss of animal and human life, through organ damage and cancer (see Jeffrey Smith's super informative film Genetic Roulette for more information).
One world united marching against one corporation

It is unprecedented – the first time that the entire planet has come to together to spread awareness and stand up against one corporation. However, Monsanto has become such a behemoth that it has infiltrated and overtaken the US Government, allowing to dictate US foreign policy and write its own laws. The world is angry and disturbed by the threat of GMOs. Recently even Russian President Putin blasted US Secretary of State John Kerry for US support for GMOs.

Twisted logic: elite Monsanto claims anti-GMO activists and organic food consumers are "elite" !?