October 31, 2014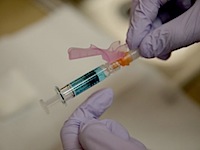 (Photo: Joe Raedle, Getty Images)
Tampa, Florida – A Bay area mother spends her day caring for a bedridden daughter who can no longer walk and has very little vocabulary. She blames it on the flu vaccine.
"She (used to) love school, she was running, playing signing in the church choir," said Carla Grivna.
In their home in the Town 'N Country area, Grivna says the nightmare started last November when she took her daughter to get her routine flu shot.
Four days after getting the vaccine, Marysue fell ill with a rare viral infection of the brain called Acute Disseminated Encephalomyelitis (ADEM).