Miami Herald
April 24, 2009
Editorial
OUR OPINION: Mistakes apparent in death of seven-year-old Gabriel Myers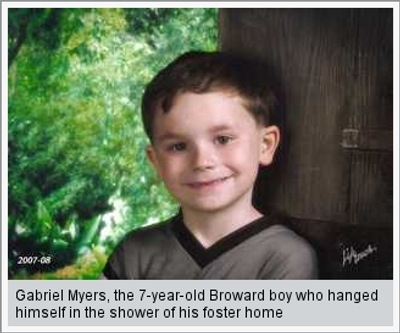 By the time it becomes necessary for the Department of Children & Families to intervene in a child's life, the youngster almost certainly has already been severely traumatized by neglect and abuse. The agency faces tough, agonizing choices, but the objective never changes: Always act in the best interest of the child. That didn't happen in the depressingly sad case of 7-year-old Gabriel Myers, who threw a tantrum last week and hanged himself in the shower of a foster home.

Clearly, somebody dropped the ball. Now it becomes the responsibility of police, DCF and other agencies to determine what happened, how it happened and why. Then, DCF and all of the other public entities and individuals who had a hand in this matter -- including the state lawmakers -- should determine what must be done to prevent another child from suffering a similar fate.

Doctor `red-flagged'
A good place to begin the examination is with the menu of potent, mind-altering drugs that Gabriel was taking under a doctor's prescription. The boy was being treated by a Broward psychiatrist who had been red-flagged by a state agency as having ''problematic'' prescribing habits, according to a state Medicaid drug-therapy expert. The term applies to doctors with a high volume of prescriptions of mental-health drugs or who prescribe potentially risky drug combinations.

DCF has of history of relying too heavily on psychotropic drugs to manage children in its care. After a series of Miami Herald stories describing the problems, the Florida Legislature passed a law that attempted to control and limit the use of psychotropic drugs on children. The legislation cited a DCF study in 2004 showing that 13 percent of all children in state custody were receiving and least one psychotropic drug. The study also showed that 25 percent of the children living in foster care were being treated with psychotropic drugs, a rate five times higher than in the general population of Medicaid-eligible children.

Sound judgment needed
Laws can be prescriptive, provide guidance, set parameters. They specify fines and penalties when the intent, if not the spirit, of a statute isn't followed. No matter how well it is crafted, though, no law can substitute for the human intuition and sound judgment of caring individuals.

People who cared about Gabriel, including a guardian ad litem and some of his relatives, believed that the psychotropic drugs he was being given could have been doing more harm than good -- something the 2005 law attempted to address and cautioned against. More to the point, allowing potent drugs to be used inappropriately to control a child's behavior would be a short cut that is contrary to DCF's mission.

With Gabriel's death, the question to be answered is whether the DCF is living up to its goal of acting in the best interest of the child.

Comments can be made here: http://www.miamiherald.com/opinion/editorials/story/1015130.html (short registration required)
Letters to the editor here: HeraldEd@MiamiHerald.com
28,499 Signatures Against TeenScreen. Petition: http://www.petitiononline.com/TScreen/petition.html
0
/5 (
0
votes cast)