Natural Society
by Christina Sarich
April 15th, 2014
Updated 05/05/2014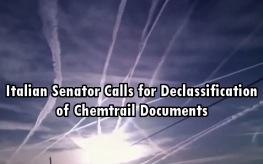 Have you noticed increased cases of Alzheimer's and Autism? The CDC recently admitted that autism numbers have doubled in a decade and more than 5 million Americans have a form of dementia. While there are multiple contributors to these phenomenon, including the increased use of pesticides and herbicides, the decline of real food, and the degradation of our environment as a whole, it is likely chemtrails play a significant part in the cognitive decline of our nation as well.
Our politicians, however, refuse to comment on the subject, with the exception of a rogue informant often put swiftly back into his place by mainstream media and their puppeteers. Now, an Italian senator is demanding that important state secrets be declassified so that the world can understand what is really happening in the sky above.
Senator Domenico Scilipoti is not a champion for every Italian, often accused of taking party sides wherever it will benefit him personally, but he is aiming to abolish the classification of documents regarding the death of Ilaria Alpi, an Italian journalist killed in 1994 after she discovered radioactive toxic waste was being shipped to Somalia. There is a free documentary people can watch here , but it is not allowed in the US. Quite some censorship. Why?
5
/5 (
2
votes cast)