by Rebecca Millette
June 29, 2011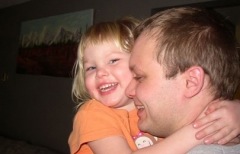 Derek Hoare with his daughter Ayn Van Dyk.

ABBOTSFORD, British Columbia, June 28, 2011 (LifeSiteNews.com) – On June 16, 2011, 9-year-old Ayn Van Dyk was taken from her family into custody by the BC Ministry of Children and Family Development, allegedly for her own safety, but against the wishes of her family, says her father.
Four days earlier, Ayn had been playing in the backyard of her family's home in Abbotsford, British Columbia when she went missing. After frantically looking for her, without success, her father called 911 and a police search commenced. Ayn was found two hours later playing in a neighbor's backyard.
"It seemingly was one of those storybook endings," her dad, Derek Hoare, told LifeSiteNews.com. "She ran from the police car and threw her arms around my neck."
Derek Hoare is a single father of three children, two of whom, including Ayn, have been diagnosed with severe autism. He says he has been the only parental figure in his daughter's life since birth and the only person able to manage his daughter's difficulties with autism. Although Ayn has accrued the knowledge of a 9-year-old, due to her autism she has the naivety of a 3 or 4 year old.
When Child Protection Services (CPS) workers showed up at Hoare's door on June 16 they told him they had a director's agreement for taking Ayn into custody.
"They told me either you voluntarily hand her over to us or we take her," Hoare told LSN. "You can't claim it's voluntary when you walk up to someone and say 'Give this to us or we're taking it.' That's not voluntary."
"I don't believe the government has the right to remove children from loving, caring homes," Hoare said, adding he believes it is his job to protect his daughter and decide how to best keep her safe. He said he doesn't understand why the Ministry has taken her away from "the person who loves her best."
Because Hoare refused to sign his daughter over to CPS, workers took her from her school later the same day. Afterwards, Hoare learned that Ayn was placed in a "specialized hospital" for evaluation, as she was deemed unsuitable for foster care at the time.
"I fear this means my daughter is being drugged [because] she is very volatile and aggressive when she is outside the home," said Hoare.
According to her father, Ayn is "well-behaved" while under his care, "succeeding and excelling" in her family home, but still remains difficult to manage in a school setting or outside his care. He believes Ayn would be unmanageable in a hospital setting where she would be fearful.
Meanwhile, Hoare has not seen his daughter, nor does he know how she is coping.
According to Ministry protocol, a presentation hearing took place in court seven days after Ayn's removal from her family. At that time, Hoare learned the reasons the court gave for taking his daughter.
Citing situations from home and school that appeared detrimental to Ayn's safety or that of her siblings, the Ministry indicated, according to Hoare, that while he was a good father to his children, he was simply too overburdened with their care as a single parent. But Hoare contests the Ministry's report, saying each situation highlighted either normal occurrences for an autistic child or behavior he has since addressed.
The hearing was adjourned to provide time for Hoare and his lawyer to examine the documents and prepare a defence. They will not reopen the case until July 12.
LifeSiteNews.com contacted the Ministry for further information, but was informed that the Child, Family and Community Services Act protects specific details of the case.
In response to general inquiries, however, a spokesperson for the Ministry said the top priority is always "the safety and wellbeing of the child."
"We recognize the stress of caring for a child with special needs places on a family – and we take each case very seriously," the spokesperson told LSN. "The decision to remove a child is not made lightly. Wherever possible, our preference is always to find a way to support the family in continuing to live together. We would only remove a child if there is concern about the family's ability to safely care for the child."
"My number one concern is not getting my daughter back, but how she is doing right now," said Hoare. "I have no idea where she is or how she is doing. I have not seen her and they have not told me."
The situation, he said, highlights a concern of great importance to many BC parents with special needs children.
According to Hoare, the BC Ministry of Children and Family Development recently took over the management of files for children with autism in the province. The Ministry additionally oversees the Child Protection Services, which is charged with the removal of children from their homes when the Ministry deems it necessary. Many BC parents, said Hoare, are concerned that with the Ministry controlling both departments they do not accurately perceive the situations of families with special needs children.
In his case, Hoare says the Ministry obviously knew the entire situation with his daughter, as a result of overseeing her files, before they took her into custody. Hence, they would have known Ayn's improvement, from non-vocal at 2 years old, to now, when she has mental abilities proper for her grade level - all skills she learned in her home, according to Hoare.
"They knew this before they took her, so why did they take her?" asks Hoare.
"It is about Ayn for me here and I am emotionally invested here," he added. "[But] this is no reason for the government to come and remove a child from the home."
As a result of waiting lists and court protocol, it could be well over 3 months before Hoare has a chance to argue his case. However, there is a possibility that she could be returned to her family outside of the judicial process during a "case conference" or meeting with lawyers and concerned parties. Hoare hopes that in such a meeting, they might come to a decision to bring his daughter home.
For more information, visit the Facebook page dedicated to bringing Ayn home.
Contact information:
Honourable Mary McNeil
PO Box 9057 Stn Prov Govt
Victoria, BC V8W 9E2
Phone: 250 387-9699
E-mail: MCF.Minister@gov.bc.ca
5
/5 (
3
votes cast)