Commondreams.org

Published on Sunday, January 2, 2011 by the Independent/UK
Over the past decade, as crops have failed year after year, 200,000 farmers have killed themselves

by Alex Renton

Naryamaswamy Naik went to the cupboard and took out a tin of pesticide. Then he stood before his wife and children and drank it. "I don't know how much he had borrowed. I asked him, but he wouldn't say," Sugali Nagamma said, her tiny grandson playing at her feet. "I'd tell him: don't worry, we can sell the salt from our table."
Ms Nagamma, 41, showed us a picture of her husband - good-looking with an Elvis-style hairdo - on the day they married a quarter of a century ago. "He'd been unhappy for a month, but that day he was in a heavy depression. I tried to take the tin away from him but I couldn't. He died in front of us. The head of the family died in front of his wife and children - can you imagine?"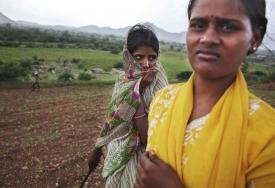 Sugali Nagamma and her daughter, Devi, 18, with the
family's drought-hit crops. Sugali's husband killed
himself by swallowing pesticide in front of
her.(Photo/Abbie Traylor-Smith)

The death of Mr Naik, a smallholder in the central Indian state of Andhra Pradesh, in July 2009, is just another mark on an astonishingly long roll. Nearly 200,000 Indian farmers have killed themselves in the past decade. Like Mr Naik, a third of them choose pesticide to do it: an agonizing, drawn-out death with vomiting and convulsions.

The death toll is extrapolated from the Indian authorities' figures. But the journalist Palagummi Sainath is certain the scale of the epidemic of rural suicides is underestimated and that it is getting worse. "Wave upon wave," he says, from his investigative trips in the states of Andhra Pradesh and Maharashtra. "One farmer every 30 minutes in India now, and sometimes three in one family." Because standards of record-keeping vary across the nation, many suicides go unnoticed. In some Indian states, the significant numbers of women who kill themselves are not listed as "farmers", even if that is how they make their living.
Mr Sainath is an award-winning expert on rural poverty in India, a famous figure across India through his writing for The Hindu newspaper. I spoke to him at a screening of Nero's Guests, a documentary film about the suicide epidemic and some of the more eye-popping inequalities of modern India.
"Poverty has assaulted rural India," he said. "Farmers who used to be able to send their children to college now can't send them to school. For all that India has more dollar billionaires than the UK, we have 600 million poor. The wealth has not trickled down." Almost all the bereaved families report that debts and land loss because of unsuccessful crops were among their biggest problems.
The causes of that poverty are complex. Mr Sainath points to the long-term collapse of markets for farmers' produce. About half of all the suicides occur in the four states of India's cotton belt; the price of cotton in real terms, he says, is a twelfth of what it was 30 years ago. Vandana Shiva, a scientist-turned-campaigner, also links failures of cotton farming with the farmer suicides: she says the phenomenon was born in 1997 when the Indian government removed subsidies from cotton farming. This was also when genetically modified seed was widely introduced.
"Every suicide can be linked to Monsanto," says Ms Shiva, claiming that the biotech firm's modified Bt Cotton caused crop failure and poverty because it needed to be used with pesticide and fertilizers. The Prince of Wales has made the same accusation. Monsanto denies that its activities are to blame, saying that Indian rural poverty has many causes.
Beyond any argument - though no less politically charged - is the role of the weather in this story. India's climate, always complicated by the Himalayas on one side and turbulent oceans on the two others, has been particularly unreliable in recent years. In Rajasthan, in the north-west, a 10-year drought ended only this summer, while across much of India the annual monsoons have failed three times in the past decade.
India's 600 million farmers and the nation's poor are often the same people: a single failed crop tends to wipe out their savings and may lead to them losing their land. After that, there are few ways back. The drought, following a failed monsoon, that I saw in Andhra Pradesh in 2009 was the tipping point that drove Mr Naik to suicide.
Such tragedies and even the selling of children for marriage or as bonded labor - a common shock-horror news story in India - are the most dramatic results. But far more common is the story of rural families migrating, in tens of millions, to India's cities, swelling the ranks of the urban poor and leaving holes in the farming infrastructure that keeps India fed.
I visited an idyllic village, Surah na Kheda, last month in the limerick-worthy district of Tonk, Rajasthan. We arrived to find the rows of whitewashed mud-walled houses gleaming in the rising sun, while inside the courtyards women in bright saris were stirring milk to make yogurt and butter for the day's meals. Their daughters kneaded dough for the breakfast chapattis.
But there was an odd thing: a distinct lack of people. There were the old and the very young - but virtually no one of working age. Half the village, some 60 adults and many children, had gone to Jaipur, the state capital, to look for work. Even though the Diwali holiday fell the following week, no one expected their neighbors and relatives back. Times were too hard.
Prabhati Devi, 50, said four of her seven children had joined the exodus. "They had to go," she said. "Twenty years ago, we could grow all we needed, and sell things too. Now we can't grow wheat, we can't grow pulses, we can't even grow carrots, because there is not enough rain. So we go to the cities, looking for money."
She looked bereaved as she talked of the damage the 10-year drought had done. "It crushes people," she said. "Before, we were able to deal with drought. It would come every four years, and you could prepare. We would store grain and people could share it. In the past, when your buffalo wasn't giving milk, neighbors would share theirs. But now kindness is no longer possible."
I found the other end of Surah na Kheda's story under a flyover in Jaipur. Here, in the early morning, hundreds of men and boys, farmers from all over northern India, gather looking for work as laborers on the city's building sites. Many of them sleep under the flyover, and their clothes were stiff with dirt. The air was tense, and smelled of drugs and cheap alcohol.
Shankar Lal, one of the Surah na Kheda émigrés, was sipping tea at a stall under the flyover with half a dozen other young men from the village, waiting for a contractor to give them a lift. "If the rains came back we would be farmers again. But will they?" He did not think so: "In 10 years' time, there will be no village. Everyone will be here in the city. Or they will be dead."
The men were working for 150 rupees (£2.15) a day, decorating a house in one of Jaipur's posh suburbs. This is relatively good work, and they had all found a floor to sleep on. In another building site, we found a seven-strong rural family who slept in the cement store. The mother and grandmother were working for less than £1 a day, carrying cement and bricks on their heads up precarious bamboo scaffolding. In one half-built block of flats a baby slept in the dust next to the cement mixer. None of these people were happy to be in the city. "If we could survive at home we would go straight back," I was told.
Many of the laborers on the sites were children, some as young as 12: an interrupted education is another part of the social fallout of rural collapse. In Rajasthan, most older people in the villages told me they had not gone to school, but they were proud that their children had. However, the new poverty brought about by the "chaos in the weather" was keeping their grandchildren out of school.
According to the World Food Program, 20 million more people joined the ranks of India's hungry in the past decade, and half of all the country's children are underweight. Some analysts say that fast-developing India is performing worse than some of the poorest countries, such as Liberia and Haiti, in addressing the basic issue of hunger. With so many farmers giving up, the question is how India will feed the entire country, not just its poor.
It is widely agreed that there have been radical shifts in the weather patterns in India in the past two decades; what is less certain are the causes. Is the change in the weather "climate change"? For many development workers, the question needs answering, because the collapse of India's rural economy - if it continues - will bring about a catastrophe that will affect people far beyond India's borders: even rumors of a poor monsoon or bad harvest in India tends to send food prices on the world commodity markets soaring, as they did again this spring.
Alka Awasthi, of Cecoedecon, a Rajasthani rural poverty organization part-funded by Oxfam, asks: "When is the data going to catch up with the stories? Why don't the scientists come and listen to people who actually work with the rain? They don't know what a woman like Prabhati Devi is dealing with."
But at Rajasthan's Institute of Development Studies, Surjit Singh believes the calamitous weather shifts are as much to do with changing patterns of farming, growing population and failed government policies as any greater human-induced change to the climate. "The state has failed the rural poor, and so has the private sector. Economic liberalization has clearly failed. How long can the boom go on? The economy may be growing at 9 per cent but food-price inflation is running at 16 to 18 per cent."
Dr Singh is in no doubt, though, that the changes in weather have increased poverty in rural India - and that there lies a huge injustice. "Climate change puts the onus on the poor to adapt - but that's wrong. Who is using the planes, the cars and the plastic bottles? Not the poor man with no drinking water."
For Mrs Devi and Sugali Nagamma, though, such debates are meaningless. I asked Mrs Devi if she had a question to ask me. "If these industries and factories stop burning petrol and sending poison into the atmosphere will it bring our rains back?" I had to tell her I did not know.
For more on Oxfam's work in India visit: www.oxfam.org.uk/climate
© 2011 Independent/UK
5
/5 (
2
votes cast)