Xenophilia
Posted by Xeno on October 7, 2010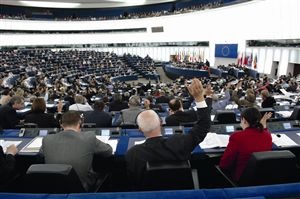 Anger is growing in Europe about new Washington data sharing demands, in what they call a move to stop potential terrorists from entering the U.S. The requirements include fingerprints, DNA samples and cross border payments – data considered by many as private and sensitive. Travellers from countries refusing to share the information will have to apply for a visa to enter the U.S. However some EU states – like Austria and Germany – have already agreed to hand over the personal data of its citizens.
In June the EU and the United States signed the so-called SWIFT deal, giving American government officials access to all bank transactions within Europe.
via YouTube – Uncle Sam Wants Your DNA: Privacy a price to pay for travel ticket?.
08.07.2010 – The European Parliament today approved a EU-US deal on sharing bank data to help track terrorist financing.
MEPs voted by 484 in favour, 109 against and 12 abstentions to back the new accord, clearing the way for it to come into force on 1 August. The deal, known as SWIFT after the private company that handles electronic banking data, sets conditions for access to international banking transfer records from EU countries by the US Treasury's Terrorist Finance Tracking Programme (TFTP).
Alexander Alvaro, a German liberal MEP who drafted the Parliament's opinion on the accord, said the Parliament had won concessions from US and EU authorities that would better guarantee the rights of Europeans. "It manages to protect the security of our citizens," said Alvaro.
via europvoice
Outrageous. How do they collect DNA? Possibly a cheek swab and then something like the HDA-GT12?
April 27, 2006–eGene Inc. (OTCBB:EGEI – News), a leading biotechnology company, announced that it is looking for global business partners in the DNA sample collection in airport terminals.

The company's leading product, the compact and automated digital genetic analyzer, HDA-GT12(TM), is already achieving rapid penetration and acceptance in the current genetic research and testing market. – ftalk
This was from about a year ago: October 7, 2009
A lawsuit filed today by the ACLU of Northern California seeks to stop California's policy of mandating that DNA is collected from anyone arrested for a felony, whether or not they are ever charged or convicted. The ACLU opposes this law because it violates constitutional guarantees of privacy and freedom from unreasonable search and seizure, and because of the harmful impact on communities of color. … "Forcing a person to provide a DNA sample without any judicial oversight violates the Constitution," said Michael Risher, staff attorney at the ACLU of Northern California (ACLU-NC). "The result of this new program is that thousands of innocent Californians will be subject to a lifetime of genetic surveillance because a single police officer suspected them of a crime. … California's huge forensic DNA database–the third largest in the world–already faces tremendous backlogs." – aclu
Are they actually collecting DNA at airports? Some say yes, on the sly, with a cover story of searching for explosives residue.
Airline passengers are about to get a new set of instructions before boarding a plane: Put your palms forward. More and more passengers will be putting their hands up; to get swabbed for explosive residue. … General Mitchell International Airport is on the list of airports to implement this step up in security and increase the number of random searches. Passengers we spoke to seem to agree; security comes first; "It is safety for everyone, it shouldn't matter" says one traveller. – cbs58
Some say there is a secret diabolical reason DNA is being collected, along with those nude body scans being secretly recorded at airports. If the human population (and along with it our genetic diversity) were going to diminish drastically, a database would be needed to help enable the survival of the elite.
Those nuclear subterrenes have been digging for many years now. It's a good bet Iron Mountain is not the only place records (fuel, water, seeds, dna, patents, gadgets, alien bodies(?), etc.) are being stored.
5
/5 (
2
votes cast)