March 19, 2010
by Jeffrey Dach MD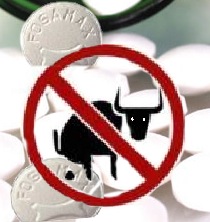 As if Fosamax didn't have enough problems, another nail was hammered into the coffin at the 2010 AAOS Meeting.
Two separate studies revealed that Fosamax disturbs bone formation, and is implicated in spontaneous mid-femur fractures.
Reports of Spontaneous Mid Femur Fracture on Fosamax

Clarita Odvina MD reported nine cases of spontaneous femur fracture on Fosamax (Alendronate).

Dr. Goh, a doctor in Singapore, identified nine more cases in his 2007 report of subtrochanteric femur fractures with minimal trauma in women on long term Fosamax.

Joseph M Lane MD reported 15 cases of spontaneous femur fracture in women on Fosamax (Alendronate). His report appeared in the New England Journal March 20, 2008.

Lane found that "ten of the 15 patients were found to share a unique radiographic pattern, defined as a simple transverse or oblique (≤30)fracture with beaking of the cortex and diffuse cortical thickening of the proximal femoral shaft."

The entire bisphosphonate class of osteoporosis drugs is implicated. This includes all of the drugs for osteoporosis such as Boniva, Actonel, Reclast, Fosamax,etc.
Problems with Fosamax From the Beginning

The Fosamax (Alendronate) study done for FDA approval failed to show any benefit for the majority of the worried well, which is the osteopenia group defined as T score greater than -2.5. This Osteopenia Group actually had higher fracture rates than placebo. This was published by Cummings in JAMA in 1998. This is exactly the group that is targeted for treatment by the Sally Fields Boniva drug ads.

Bisphosphonate drugs like Fosamax have severe adverse side effects of jaw necrosis (OJN), spontaneous mid-femur fracture, heart rhythm disturbances, and severe bone and joint pain.

The spontaneous mid femur fractures are especially troubling, since these are spontaneous fractures without any trauma. Subtrochanteric fractures are pathological fractures, indicating the underlying bone matrix is abnormal. This abnormal weakening and brittleness is directly caused by the bisphosphonate drug.

Bottom Line: These are BAD drugs that actually make the bones weaker not stronger, and they should be banned by the FDA . However, knowing the FDA which is in the pocket of the drug companies, no action will be taken until many more women victims suffer from these drugs, and many more cases work their way through drug litigation court.

Watch this news video on Fosamax Induced Femur Fractures:
Merck Defends Fosamax with Falsehoods
The Merck spokesman Ron Rogers denies that Fosamax could be causing fractures:
Ron Rogers was quoted as saying: "In clinical studies, Fosamax has not been associated with increased fracture risk at any skeletal site,"
This defensive statement by Merck's spokesman Ron Rogers is directly contrary to the results of the Fracture Intervention Trial reported in 1998 JAMA by Cummings: For women with T scores greater than -2.5, Fosamax doubled the risk of hip fracture from 6 to 11.
This FIT Cummings trial reported increased overall fracture risk for women with T scores above -2.5. There were 27 fractures in the fosamax group and only 20 in the placebo group. This is highly significant and was ignored by the FDA who approved the drug anyway.
Here is a quote from the Cummings FIT paper. (JAMA. 1998;280:2077-2082):
"Similarly, we observed no reduction in risk among women with T scores of -2.0 to -2.5: 20 (2.8%) in the placebo group vs 27 (3.7%) in the alendronate group (RH, 1.33; 95% CI, 0.75-2.4).
Among those whose femoral neck T scores were more than -2.0, more fractures occurred in the treatment group (n = 22, 3.3%) than in the placebo group (n = 12, 1.7%; RH, 1.9; 95% CI, 1.0-4.0; placebo-treatment difference, 1.6%). " end quote.
Alendronate doubled therisk of hip fracturesin women with a femoral neck T score greater than-2.5:6 hip fractures (0.4%) in the placebo group vs 11 fractures (0.8%) in the alendronate -Fosamax group (RH, 1.84; 95% CI, 0.70-5.36).
The FDA Sends Warning on Possible Risk of Femur Fractures
This week, the FDA issued a safety announcement which recommended that healthcare professionals be aware of a "possible risk" of atypical subtrochanteric femur fractures in patients taking oral bisphosphonates. In my opinion, these drugs are bad drugs and the FDA should ban them. However, it may take a protest march from a thousand women in wheel chairs with femur fractures gathering on the Capitol steps before the FDA finally takes action.
At stake: A Ton of Money for the Drug Companies
In 2008, bisphosphonate drugs like fosamax generated 37 million prescriptions and $3.5 billion in sales, according to IMS Health.
Litigation Lining UP
Fosamax maker, Merck is facing 900 lawsuits by patients who claim Fosamax caused jaw bone disintegration, OJN, osteonecrosis of the jaw.
Above Second Fracture Xray,Spontaneous Femur Fracture Induced by Long Term Fosamax Courtesy of Jennifer Schneider MD.
Articles with related content:
Fosamax Induced Bilateral Femur Fractures
Fosamax, a Bad Drug in Litigation
Bisphosphonates for Osteoporosis, A Closer Look at the Data by Jeffrey Dach MD
Osteoporosis Drugs Cause Osteo-Necrosis of the Jaw by Jeffrey Dach MD
Fosamax, Actonel, Osteoporosis and Toulouse Lautrec by Jeffrey Dach MD
Links and References:
http://www6.aaos.org/news/pemr/releases/release.cfm?releasenum=877
Quantity vs. Quality: Long-Term Use of Bone-Building Osteoporosis Drugs May Affect Quality and Structural Integrity of Bone. Studies find possible links between prolonged bisphosphonate treatments and atypical fractures in post-menopausal women
http://jama.ama-assn.org/cgi/content/full/280/24/2077
Effect of Alendronate on Risk of Fracture in Women With Low Bone Density but Without Vertebral Fractures Results From the Fracture Intervention Trial
Steven R. Cummings, MD; Dennis M. Black, PhD; Desmond E. Thompson, PhD; William B. Applegate, MD; Elizabeth Barrett-Connor, MD; Thomas A. Musliner, MD; Lisa Palermo, MA; Ronald Prineas, MD; Susan M. Rubin, MA; Jean C. Scott, PhD; Thomas Vogt, MD, MPH; Robert Wallace, MD; A. John Yates, MD; Andrea Z. LaCroix, PhD; for the Fracture Intervention Trial Research Group
JAMA. 1998;280:2077-2082.
Disclaimer click here: www.drdach.com/wst_page20.html
The reader is advised to discuss the comments on these pages with his/her personal physicians and to only act upon the advice of his/her personal physician. Also note that concerning an answer which appears as an electronically posted question, I am NOT creating a physician -- patient relationship. Although identities will remain confidential as much as possible, as I can not control the media, I can not take responsibility for any breaches of confidentiality that may occur.
Link to this article: http://jeffreydach.com/2010/03/14/fosamax-induced-fractures-more-bad-news-by-jeffrey-dach-md.aspx
This article may be reproduced on the internet without permission, provided there is a link to this page and proper credit is given.
0
/5 (
0
votes cast)