scotsman.com
June 1, 2009
By Marisa de Andrade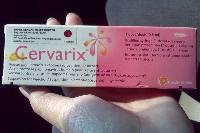 MORE than 150 girls in Scotland have suffered adverse reactions after receiving the cervical cancer vaccine introduced last autumn, The Scotsman can reveal.
Campaigners are calling for the vaccination programme to be suspended, claiming there are unanswered questions about the long-term effectiveness and safety of Cervarix, the drug used for the vaccine. They are concerned that official information refers to mild side-effects, when some girls have reported serious reactions to the jab.
The families of six girls in England are suing GlaxoSmithKline (GSK), the maker of Cervarix, after the girls suffered severe reactions resulting in partial paralysis, seizures and chronic fatigue. The Scotsman has learned two more have contacted the same solicitor after suffering severe painful swelling of joints.

The Scottish Government and GSK insist the number of adverse reactions experienced is in line with any mass vaccination programme. However, an investigation by The Scotsman has also discovered the guidance sent out on the £64 million vaccination programme was changed in several respects before being distributed to parents - after the intervention of a drug company.

Critics claim the information sent out to parents and medical professionals was vague and misleading. MSPs are calling for these concerns to be urgently addressed before more Scottish girls are vaccinated.

In the UK, there were 1,716 suspected reactions reported up to May 2009. The most severe included paralysis and sight problems - and campaigners say far more young women could have suffered but their reactions were attributed to a fear of the vaccine rather than the vaccine itself.

The HPV vaccination campaign started in Scotland in September and is targeting girls in the second, fifth and sixth years at secondary school. Those in third and fourth years will be offered the jab from September. Once this campaign is completed, the jab will be routinely offered to girls aged 12 to 13.

About 800,000 vaccines using Cervarix have been given in the UK.

But a public health expert in Germany said evidence for its effectiveness was "sparse".

Dr Ansgar Gerhardus, of the University of Bielefeld, is part of a team of 13 experts who studied all publicly available data on the effectiveness of the vaccines.

He believes the public has been given the impression that the vaccine cures cervical cancer, when it actually protects against two strains of the human papilloma virus (HPV), which is linked to cervical cancer.

Jackie Fletcher, of the vaccine support group Jabs, said there were concerns over the vaccine's long-term effectiveness.

"It has been trialled for six and a half years - yet there are no known long-term effects," she said. "We're calling for the vaccine to be suspended. With cervical cancer, there are other things girls could do to be safe so this is a big public experiment."

She said patients had been given inaccurate information. "We've seen health information leaflets. They're generally reporting mild side-effects at the injection site. The worst one mentioned is an allergic reaction, but they say it's very rare - yet the health regulatory body has been notified of serious side-effects by parents whose daughters have had Cervarix. These are long-term problems and we have no idea if the girls will fully recover."

Independent Lothians MSP Margo MacDonald said: "There does seem to be a very high percentage of girls who experience some sort of adverse reaction. Since there are documented cases of paralysis - long-term or not - I think that would merit a further investigation."

Conservative health spokeswoman Mary Scanlon MSP said:

"I think the government and health minister have to take responsibility for ensuring Cervarix is safe and effective and any information is accurate."

Scottish Liberal Democrat health spokesman Ross Finnie also had concerns: "If we have patients in Scotland who are part of this programme and evidence is emerging of serious concerns, then this needs to be put to the health secretary.

"If less than accurate information as part of the publicity is being distributed to patients, this is a matter for the health secretary to investigate seriously."

A spokesperson for the Scottish Government and NHS Health Scotland said: "The Fight Cervical Cancer public website - set up to support the campaign - contains a section on potential side-effects, to ensure those eligible for the vaccine are aware.

"Girls and parents are also encouraged to speak to their nurse or GP, or NHS 24, if they have any concerns. The safety of vaccines is a reserved matter and is monitored closely by the Medicines and Healthcare Products Regulatory Agency (MHRA] - whose data confirms that the HPV vaccine is very safe.

"We believe Scotland's HPV immunisation programme is a major step forward in saving lives. The programme is based on advice from independent medical and scientific experts on the Joint Committee on Vaccination and Immunisation."

A GSK spokesperson said: "As with all vaccines to have been granted a licence, Cervarix had to undergo rigorous testing. The clinical development programme includes long-term follow-up. Trials have been followed up for more than seven years and continue. In clinical studies, Cervarix was found to be generally well tolerated. The MHRA has stated that the number and nature of suspected adverse reactions reported so far is very much in line with what they would expect to see at this stage in a national immunisation programme."

She also defended the vaccine's effectiveness, saying: "Results from a study recently presented show that GSK's cervical cancer vaccine provided high and sustained antibody levels against the strains responsible for up to 70 per cent of cervical cancers through the 7.3 years of follow-up after vaccination."

The MHRA added: "The balance of risks and benefits of Cervarix remains positive."

Weighing up the pros and cons of rival drug firms' vaccinations

What vaccines are on the market for cervical cancer?
Gardasil and Cervarix.

Which countries use Cervarix and which use Gardasil?

Cervarix has been approved in 95 countries, including the 27 members of the European Union, Australia, Brazil, South Korea, Mexico and Taiwan.

Gardasil - sold in some countries as Silgard - has been approved in 109 countries, including the EU, the US, Canada and Australia.

What are the differences?
Gardasil protects against four strains - types 6, 11, 16 and 18 - of the human papillomavirus (HPV), which has been linked to cervical cancer. It is also approved for preventing genital warts, caused by HPV types 6 and 11. Cervarix protects against two strains of HPV - types 16 and 18.

Who approved the use of Cervarix in the UK?

The European health regulator, the EMEA (European Medicines Agency), approved Cervarix in September 2007.

Why did the Scottish Government choose Cervarix?

This was the recommendation from the Joint Committee on Vaccination and Immunisation, the UK-wide panel that provides ministers with advice on all issues relating to vaccination. The panel concluded that vaccination would bring benefits.

What tests were carried out before?

According to GlaxoSmithKline, over 70,000 doses of its HPV vaccine were administered through clinical trials.

When was the vaccine introduced and who received it?

From September 2008, Scotland's HPV immunisation programme was routinely given to girls in S2. It is also offered to girls aged 13-17 in a catch-up programme.

What are its side-effects and why are there concerns over its side-effects?

According to GSK, very frequent side-effects include headaches, muscle pain, redness and swelling in the vaccine area and fatigue. The company also says a smaller number of girls can experience gastrointestinal symptoms, such as nausea, vomiting, diarrhoea and abdominal pain, itching and rashes and fever. Fewer still may experience dizziness, an upper respiratory tract infection and/or numbness.

Recent suspected adverse reactions reported to the UK's health regulator include anaphylactic reactions, loss of consciousness and fainting.

What should concerned families do?

Speak to their GP to discuss concerns or visit www.immunisation.nhs.uk for further information.

3.5
/5 (
6
votes cast)