thedailygreen
May 21, 2008
The USDA Is Eliminating a Program That Many Groups Rely on to Track Pesticide Use and Safety — but Why?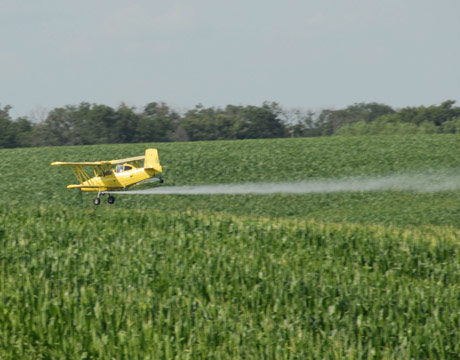 Every year the USDA's National Agricultural Statistics Service (NASS) conducts research on pesticide use and risk associated with various crops, such as corn, soybeans, cotton, and wheat, and the body then releases its data files. That data is used by chemical groups, trade groups, public interest groups and government agencies to track pesticide use and safety, and several advocates say it is the only reliable, publicly searchable database of its kind.
In 2007, however, the USDA scaled back its data collection, and only gathered information on cotton, apples and organic apples. Now, the USDA has announced it will completely eliminate the program in 2008, due to budget cuts, and won't be collecting any data.
This has many people concerned.
Letters to the secretary of agriculture have been signed by the various groups who rely on the USDA's information, including public interest groups such as Greenpeace, NRDC, the Organic Center and the World Wildlife Fund, and industry groups such as Syngenta Crop Protection, Inc., Del Monte Foods and the American Soybean Association.
"It is almost unprecedented to have these diverse interests and stakeholders be on the same side of the issue, including the EPA and federal agencies," said Jennifer Sass, a senior scientist with the NRDC.
It might seem obvious that public interest groups would want to track safety trends. But why would industry organizations be bothered that data is unavailable to the public? Charles Benbrook, a senior scientist with the Organic Center, says "Commodity organizations recognize that without the USDA data they are vulnerable to claims by a variety of parties about pesticide use in their crops." The data also allows farmers to see if they are having issues with a certain pest for a given crop.
While the USDA is blaming budget cuts for the elimination, others aren't so sure funding is the issue. Bill Freese, senior policy analyst with the Center for Food Safety, said, "It's a really serious blow to efforts to improve the safety of our agriculture. The USDA claims it doesn't have funding, but that's no excuse. If you want to do it, you make it a priority and you get it done."
Freese added that this is an even greater concern now because there has been an upsurge in recent years in pesticide use on genetically modified (GM) crops.
It is interesting to note the one big name conspicuously absent from the letters to the secretary of agriculture: Monsanto. The chemical giant produces Roundup Ready seeds, which are bred to be resistant to Monsanto's Roundup herbicides, the active ingredient of which is Glyphosate.
Benbrook finds the USDA's actions curious at a time when herbicide use on Roundup Ready crops has increased: "The 2007 data would have shown an enormous increase in the pounds of herbicides applied on Roundup Ready crops, especially soybeans. The farm media has been full of stories over the past few years of the problems farmers are facing as weeds become resistant to Glyphosate and other herbicides. I find it curious that at the time of peak interest and need for solid information on pesticide use in soybeans that the Department of Agriculture has decided to stop collecting the data. I wouldn't be surprised if there was some quiet lobbying done by Monsanto to let the program lapse."
While it won't be possible to go back and collect the data for 2007, Benbrook and others are hoping the USDA comes to its senses, and collects critical data on corn, soybeans, wheat and cotton for 2008.
5
/5 (
3
votes cast)