OpEdNews
April 2, 2008
By Barbara Peterson
The people of the Bay area of California are about to be sprayed with a new pesticide not registered with the Environmental Protection Agency (EPA), in a pre-emptive strive against a perceived threat from the Light Brown Apple Moth.
"In August, the California Department of Food and Agriculture plans to spray pesticides in five Bay Area counties for the invasive species" (CBS 5, 2008). One of the chemicals being used is Checkmate, manufactured by Suterra, LLC, which is owned by Stewart Resnick, one of the richest men in California, and owner of the largest farming operation of tree crops in the world. Mr. Resnick is also included in California Governor Schwarzenegger's top 100 donors. (Arnold Watch, 2008)
Mr. Resnick has developed and owns a number of successful companies including Paramount Agribusiness, the largest farming operation of tree crops in the world, which includes Paramount Citrus, Paramount Farming and Paramount Farms, growers, processors and marketers of citrus, almonds and pistachios; POM Wonderful, grower of pomegranates and maker of the all-natural POM Wonderful pomegranate juice; Teleflora, the largest floral wire service in the world; FIJI Water, the second largest imported bottled water in the United States and the newest member of the Roll family of companies; The Franklin Mint, a leader in high-quality collectibles; and Suterra, the largest biorational pest control company in the United States. (Political Friendster, 2006)
The pesticide used to spray Santa Cruz last year was the same product, but with only one active ingredient. The new and improved Checkmate contains two active ingredients. It is this new version that will be used on Bay Area residents. The new version of the pesticide contains a new active ingredient that has not been approved by the EPA. The picture below shows the original ingredient, (E)-11-tetradecen-1-yl acetate, which was in the original product, and the second ingredient, (E,E)-9,11-tetradecadien-1-yl acetate, which was not, and is the ingredient currently under exemption from EPA registration.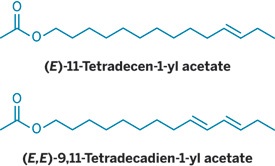 (C&EN, 2007)
Tests have been conducted with the original version of Checkmate with only one active ingredient, but not on such a large scale. According to patent information,
When a communication disruptant containing (Z)-11-tetradecen-1-yl acetate as the only active ingredient is continually used for a period of 5 to 10 years, a phenomenon has been observed in which its communication-disrupting effect on insect pests, particularly of the family Tortricidae, living in the field or the like through successive generations is reduced. (Free Patents Online, 2008)
It is the second active ingredient, (E,E)-9,11-tetradecadien-1-yl acetate, that is the wild card. The EPA has not approved this new ingredient! In fact, the EPA has granted an exemption just for the Bay Area spraying and waived the public comment period due to the "emergency situation." The following is taken from the EPA site:
SUMMARY: EPA has received a quarantine exemption request from theUnited States Department of Agriculture/Animal and Plant HealthInspection Service (USDA/APHIS) to use the pesticide (E,E)-9,11-tetradecadien-1-yl acetate (CAS No. 30562-09-5) to treat host plants tocontrol the Light Brown Apple Moth (LBAM). The Applicant proposes theuse of a new chemical which has not been registered by EPA. Due to the unique nature of this emergency situation, in which the time to reviewthe conditions of this situation was short, it was not possible toissue a solicitation for public comment, in accordance with 40 CFR166.24, prior to the Agency's decision to grant these exemptions.
DATES: EPA is waiving the public comment period, as allowed in 40 CFR166.24, due to the short period of time available with which to reviewthis situation and render a timely decision. However, comments maystill be submitted and will be evaluated. (EPA, 2007)
This exemption is dated July 2007. The spraying is to begin in August 2008, over a year after the exemption was granted. "Because of that exemption, the spraying program isn't subject to state approval, according to representatives of the state Department of Pesticide Regulation" (Kay, 2008).
Just what is this emergency situation? Some say that it is no emergency at all. According to botanist Daniel Harder, Executive Director of the Arboretum at UC Santa Cruz, "It's not such a nasty pest. You're not going to see a plant succumbing to the Light Brown Apple Moth." The bug is considered a minor pest in New Zealand, where it arrived from Australia, they say. (Kay, 2008)
No eradication measures have been taken against the moth in New Zealand, and none are planned. The moth is a minor pest whose larvae are eaten by earwigs, birds, and spiders. Furthermore, "there is no widespread infestation of the light brown apple moth [in the U.S.], but U.S. Department of Agriculture officials say they are trying to head off a potential disaster" (Kay, 2008). Therefore, Bay Area residents will be sprayed with an untested unregulated pesticide on the pretense of this non-existent emergency by Stewart Resnick, owner of the largest farming operation of tree crops in the world, and one of Governor Arnold Schwarzenegger's top 100 contributors, and are basically told to just shut up and take it. Cities to be sprayed are as follows:
Alameda County:
Albany
Alameda
Piedmont
Emeryville
Oakland
Contra Costa County:
El Cerrito
El Sobrante
Hercules
Kensington
Pinole-N. Richmond
San Pablo
San Francisco County:
San Francisco
San Mateo County:
Daly City
Colma
Pacifica
San Bruno
South San Francisco
Marin County:
Tiburon
Belvedere
San Pablo
Corte Madera
Larkspur
Sausalito
Copyright 2008, Barbara H. Peterson
References:
Arnold Watch. (2008). Arnold's Top 100 Donors.
C&EN. (2007). Rancor over Pesticide Spraying in California.
CBS 5. (2008). Outrage over Planned Bay Area Apple Moth Spraying.
EPA. (2007). Federal Register Environmental Documents.
Free Patents Online. (2008). Communication Disturbing Agents and Method for Disturbing Communication.
Kay, J. (2008). Experts Question Plan to Spray to Fight Moths. San Francisco Chronicle.
Kay, J. (2008). State Plans Bay Area Pesticide Spraying. San Francisco Chronicle.
Political Friendster. (2006). Rate the Roll International Corporation – Stewart Resnick Connection.
Authors Bio: Barbara H. Peterson is retired from the California Department of Corrections, where she worked as a Correctional Officer at Folsom Prison. She was one of the first females to work at the facility in this classification. After retirement, she went to college online to obtain a Bachelor's degree in Business, and graduated with honors. The most valuable thing she received from her time with UOP was a realization that her life's passion is writing. Now her business degree sits in her desk drawer, and she counts herself in the category of Writer/Activist. Someday she will make money writing, but that is not why she does it. "I do it because I must. A driving force compels me to reach out to others with what I learn about the condition we the people are in, and that is what I devote my time to. After all, time is the most precious thing we have, and the older I get the more I want to use it wisely." Barbara lives on a small ranch in Oregon with her husband, where they raise geese, chickens, Navajo Churro sheep, Oggie Dog, a variety of cats, and an opinionated Macaw named Rita. She believes that self-sufficiency and localization of food sources will be necessary to survive the coming depression. To this end, she has put up a website to share information at: http://survivingthemiddleclasscrash.wordpress.com. Her philosophy is this: You are on this earth for a reason - to fight for the light. Your words are swords that penetrate the darkness with truth and light. You have a purpose.
5
/5 (
1
votes cast)