by www.SixWise.com
A three-foot long, unmanned aircraft, similar to a high-tech model plane, is being tested as the latest secret weapon against crime by the Los Angeles County Sheriff's Department.
The drone aircraft, known as the SkySeer, would give police in the area a major advantage, but some consumer activists are concerned about the drone's potential to invade the public's privacy.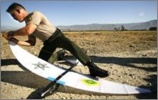 The FAA has temporarily
grounded the SkySeer to ensure
it won't interfere with other
aircraft flying in busy Los-Angeles-area skies.
A 'High-Tech Kite'

The SkySeer is completely portable and able to collapse into a small shoulder bag, making it a tool that any officer could carry with them.
"It's basically a high-tech kite that field officers could set up in a matter of minutes," said Sid Heal, head of the Technology Exploration Project of the Los Angeles County Sheriff's Department.
The SkySeer contains a small camera that sends images back to police laptops. For now, the camera is able to tilt and pan, but a zoom feature is planned for the future. The aircraft flies at speeds up to 30 miles per hour in a fixed flight pattern set using global positioning system (GPS) coordinates.
"The plane is virtually silent and invisible," said Heal. "It will give us a vertical perspective that we have never had."
The stealth observations made capable by the sky drone could help police track down fleeing criminals or search for other wanted suspects. "This technology could be used to find missing children, search for lost hikers, or survey a fire zone," Heal said. "The ideal outcome for us is when this technology becomes instrumental in saving lives."
A Replacement for Police Helicopters
The SkySeer, designed by Octatron Industries, costs between $25,000 and $30,000. The L.A. Sheriff's Department hopes the crafts will help alleviate need for police helicopters, which cost between $3 million and $5 million each, and are constantly in demand.
In as few as 10 years, law enforcement officials expect unmanned surveillance crafts may be common. "It's the wave of the future," said Sam De La Torre, who designed the SkySeer at Octatron. Assuming the testing phase of the craft is successful, the L.A. Sheriff's Department plans to buy 20 drones.

The SkySeer, at $25,000-
$30,000 apiece, may one day
replace many police helicopters
-- which cost $3 million-$5
million each.
SkySeer Not Yet Authorized by the FAA

The Federal Aviation Administration (FAA), which sets bands of airspace for unmanned aircraft like the SkySeer, said it was surprised when the L.A. Sheriff's Department tested the craft without receiving prior authorization.
"When the Sheriff's Department held the press conference last week, we did not expect them to actually fly the craft," said FAA spokesperson Laura Brown. "We need to know how and where they plan to operate the craft, and most importantly at what altitude so that it will not interfere with already congested air traffic."
According to the FAA, the SkySeer may have exceeded altitude limits and has been grounded while the case is reviewed.
An Invasion of Privacy?

Consumer groups are raising concerns that the sky drone represents the latest assault to Americans' privacy -- a right that seems to be increasingly threatened in recent years. In 2001, for instance, the Supreme Court ruled that it was illegal to use thermal imaging devices to detect marijuana growing inside of a home. Prior to the ruling, the devices were commonly used to find the growing operations, without search warrants.
Other privacy threats include Radio Frequency Identification Tags (RFIDs), a type of new-and-improved bar code, and the recent finding that the National Security Agency (NSA) has been secretly collecting millions of Americans' phone records since the 9/11 attacks.
The SkySeer, opponents say, would allow law enforcement officials to conduct surveillance at any time and place, typically without anyone's knowledge.
"A helicopter can be seen and heard, and one can make behavior choices based on that," said Beth Givens of the Privacy Rights Clearinghouse. "Do we really want to live in a society where our backyard barbeques will be open to police scrutiny?"
The sky drones are not currently capable of seeing through windows, but the crafts' "invisible eyes" still evoke images of alien creatures looking down from above.
"This is really science fiction in our daily lives," Givens said.
Recommended Reading
RFIDs: The Pros and Cons Every Consumer Needs to Know About Radio Frequency Identification Tags
What You Need to Know About ... Interpol
5
/5 (
1
votes cast)