EXCLUSIVE: How Big Pharma greed is killing tens of thousands around the world:
Queen's former doctor, Sir Richard Thompson, has backed new campaign
Experts calling for urgent public enquiry into drugs firms' 'murky' practices
They say too much medicine is doing more harm than good worldwide
And claim many drugs such as statins are less effective than thought
The Queen's former doctor has called for an urgent public enquiry into drugs firms' 'murky' practices.
Sir Richard Thompson, former-president of the Royal College of Physicians and personal doctor to the Queen for 21 years, warned tonight that many medicines are less effective than thought.
The physician is one of a group of six eminent doctors who today warn about the influence of pharmaceutical companies on drugs prescribing.
The experts, led by NHS cardiologist Dr Aseem Malhotra, claim that too often patients are given useless – and sometimes harmful – drugs that they do not need.
They maintain drugs companies are developing medicines they can profit from, rather than those which are likely to be the most beneficial.
And they accuse the NHS of failing to stand up to the pharmaceutical giants.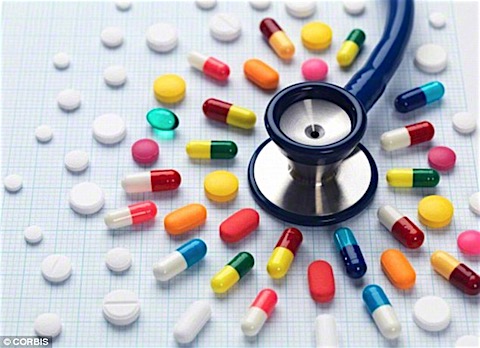 Sir Richard said: 'The time has come for a full and open public enquiry into the way evidence of the efficacy of drugs is obtained and revealed.
'There is real danger that some current drug treatments are much less effective than had previously been thought.'
He said the campaign highlights the 'often weak and sometimes murky basis on which the efficacy and use of drugs, particularly in the elderly, are judged'.
Writing for MailOnline, Dr Malhotra says commercial conflicts of interest are contributing to an 'epidemic of misinformed doctors and misinformed patients in the UK and beyond'.
Furthermore, he adds the NHS is 'over-treating' its patients, and claimed that the side effects of too much medicine is leading to countless deaths.
And he claims the full trial data on statins – cholesterol-lowering drugs prescribed to millions - has never been published, and also points to questions about the power of Tamiflu, a drug that has cost the NHS nearly £500 million.
The group has called on Parliament's Public Accounts Committee to conduct an independent enquiry into the safety of medicines.
They claim public funding is often allocated to medical research because it is likely to be profitable, not because it will be beneficial for patients.
5
/5 (
1
votes cast)