Warning as up to 15 kids COLLAPSE after having 'duff jabs' at school
HORROR unfolded at a secondary school after paramedics were called out to treat up to 15 pupils who collapsed after having their jabs.
Between 10 and 15 Year 10 students keeled over after having their vaccinations at Northampton School for Boys yesterday.
One parent, whose son saw the drama unfold, said children were seen "on their backs on the floor with their legs up on chairs".
The mum, who didn't want to be named, added: "Several different vaccines were being administered, and around 10 to 15 pupils keeled over and paramedics were called.
"The rest of the jabs were cancelled and a letter was sent home to the parents of pupils who had been given the jabs about what to do if they felt nauseous.
"Rumours say there may have been a duff batch of vaccines."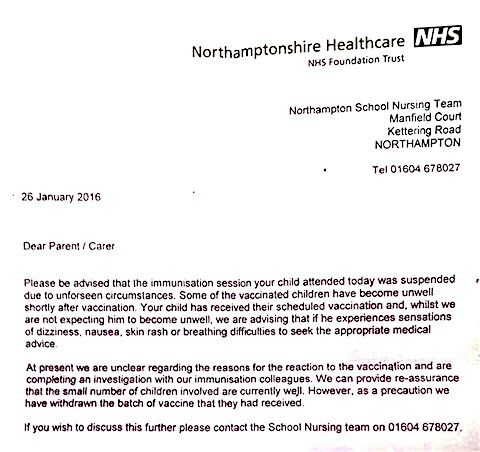 A letter was sent home to parents of pupils who had been injected, all of whom were later said to be "well", warning them to seek medical advice if their son began to feel ill.
In the note, the school said it is not known what caused the pupils to fall ill but said the vaccine was withdrawn as a "precaution".
It read: "Dear Parent/Carer, please be advised the immunisation session your child attended today was suspended due to unforseen circumstances.
"Some of the vaccinated children have become unwell shortly after vaccination.
"Your child has received their scheduled vaccination and, while we are not expecting him to become unwell, we are advising if he experiences sensations of dizziness, nausea, skin rash, or breathing difficulties to seek the appropriate medical advice.
"At present we are unclear regarding the reasons for the reaction to the vaccination and are completing an investigation with our immunisation colleagues.
"We can provide reassurance the small number of children involved are currently well.
"However. as a precaution we have withdrawn the batch of vaccine that they had received.
"If you wish to discuss this further please contact the School Nursing team."
Headteacher Richard Bernard said: "A small number of students experienced an adverse reaction to the vaccinations administered yesterday but all students concerned are currently physically well."
An investigation has now been launched by the Northampton School Nursing Team at Northants Healthcare NHS Foundation Trust.
Source: http://www.thesun.co.uk/sol/homepage/news/6889652/Horror-as-up-to-15-kids-COLLAPSE-after-having-jabs-at-school.html
5
/5 (
1
votes cast)