Congress is voting on a bill to speed up drug approvals. Is it a good idea?
here's a bill making its way through Congress that would dramatically overhaul the way new drugs are approved in the United States. And it has a good chance of actually passing.
The 21st Century Cures Act is a bipartisan effort that has been in the works since April 2014. The idea behind the bill is that the Food and Drug Administration's current approval process is clunky and out of date, preventing potentially lifesaving drugs and devices from reaching the patients who need them quickly enough.
On Friday, the House will begin voting on the bill. If it passes, it's on to the Senate — and it could mean some of the biggest changes to the US medical regulatory process in recent history.
Critics say the FDA's slow process hinders the availability of new treatments
Right now, it can take millions of dollars and as many as a dozen years to get a new drug to patients. This chart shows the FDA's current process for getting pharmaceuticals from the lab to the market: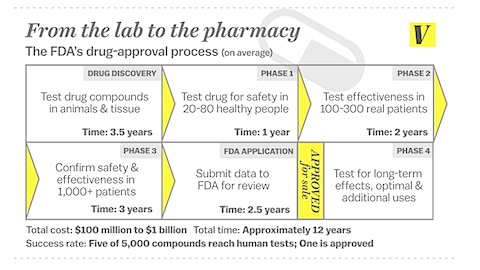 For many critics, this process is too sluggish — and, they argue, it prevents valuable treatments from reaching the people who need them. As the House Energy and Commerce House Committee points out, "There are 10,000 known diseases or conditions, but we only have cures and treatments for 500 of them. Everyone agrees that is unacceptable; we must do better."
To address that, the new bill does several things, including offering more money for medical research to spur innovation. Most significantly, it attempts to reform the way the FDA approves drugs — with the hope of speeding up development and the regulatory process. For example, it'll be easier for drug companies to seek approval for some of their products after only minimal testing in a small group of patients, instead of long-term studies in thousands of people.
The bill has several provisions that aim to get new treatments to patients faster

To encourage the discovery of new treatments, the bill proposes increasing funding for the National Institutes of Health by $1.75 billion per year for the next five years and establishing a $2 million NIH Innovation Fund to support the discovery of new treatments and research by young scientists.
To incorporate patient preferences into regulatory decision-making, the bill would establish a Patient-Focused Drug Development program. Since some patients may be more willing to accept a higher degree of risk with new drugs, this will enable their voices to be heard and may help speed up the regulatory and testing process.
To speed up drug approvals, the bill would make it easier for companies to seek approval for their products based on studies that don't yet have data on "hard endpoints" (like whether a drug reduces death and the risk of heart disease) but instead data on "surrogate endpoints" (like cholesterol levels on a blood test, which may or may not be linked to actually reducing the risk of death and disease).
To expand patient access to experimental drugs, the bill will reform the current system for allowing people to get drugs on a "compassionate use" basis.
To encourage the development of new antibiotics, the legislation will allow these drugs onto the market sooner to treat people who have no other option and are suffering from a life-threatening illness. This means antibiotics could be approved on the basis of early and small clinical trials or animal studies, instead of the current gold standard: large-scale trials involving thousands of people.
For more detail, see the bill here and a nice explainer here.
But some researchers say the real problem isn't with the FDA
While the bill has the support of Republicans, Democrats, some medical groups, patient groups, and the drug industry, it has also attracted criticism.
For one thing, it's not clear that this legislation can solve the problem that's really at the heart of why more lifesaving drugs aren't making it onto the market — the lack of promising treatments in the pipeline. A faster approval process can't fix a dearth of innovation from labs themselves.
"If there's a shortfall in drug development, it is mostly because the companies have lost their verve in their ability to discover new drugs. You can't legislate that away," Jerry Avorn, a professor of medicine at Harvard Medical School, told the Washington Post.
"Lowering FDA standards for approving drugs and antibiotics without evidence of clinical benefit — I don't think that's going to help, but it could also harm patients. What we don't need is more drugs approved based on lab tests instead of patient benefit."
Critics of the bill have also expressed concern that speeding up the FDA's regulatory process could mean substandard and dangerous drugs get to market.
"The 21st Century Cures Act could substantially lower the standards for approval of many medical products, potentially placing patients at unnecessary risk of injury or death," wrote a group of researchers in a New York Times op-ed. "While the legislation does not mandate this approach, it opens the door to it." They especially take issue with the fact that the bill makes it easier for companies to use early clinical studies to approve drugs, instead of larger, long-term trials.
There's also the question of whether the drug approval process really needs speeding up. In a New England Journal of Medicine article, Avorn argues that the current system is actually quite efficient, and that there are already numerous pathways for drug companies to seek faster approvals:
A third of new drugs are currently approved on the basis of a single pivotal trial; the median size for all pivotal trials is just 760 patients. More than two thirds of new drugs are approved on the basis of studies lasting 6 months or less — a potential problem for medications designed to be taken for a lifetime. Once the Food and Drug Administration (FDA) starts its review, it approves new medications about as quickly as any regulatory agency in the world, evaluating nearly all new drug applications within 6 to 10 months, an impressive turnaround for such complex assessments.
Other critics, writing in the BMJ, see this bill as a further erosion of the FDA's powers — something they say Congress has been chipping away at over the past 20 years:
In response to legislative and political pressure, the FDA has offered numerous concessions to industry and its lobbyists. It now offers four pathways to speed the approval process for many drugs and biologics as well as an easier approval pathway for drugs for orphan diseases (those affecting fewer than 200 000 patients in the US). Though all drugs are supposed to meet "appropriate standards" for safety and effectiveness, the standards for most drugs approved through expedited pathways are clearly lower, with smaller and shorter term studies than are otherwise required.
Now, with the new legislation, these critics worry "it's a trade-off with potentially deadly consequences."
Source: http://www.vox.com/2015/7/10/8928183/21st-century-cures-explained
0
/5 (
0
votes cast)