Article reference:
http://www.laleva.org/eng/2012/04/new_herbicide_could_kill_weeds_crops_monsanto.html
New Herbicide Could Kill Weeds, Crops, Monsanto
Food Freedom News
April 22, 2012
By radyananda
By Motley Fool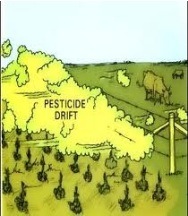 Monsanto (MON) and Dow AgroSciences, a unit of Dow Chemical (DOW) , could be facing a serious challenge to their crop chemical development plans. A remarkably nonrabid, diverse coalition of farmers and major food companies is pursuing legal action aimed at forcing the EPA and USDA to analyze potential risks associated with new weed killers in the pipeline. If they prevail, it could spell trouble for our heroes.
The Save Our Crops Coalition, or SOCC, comprises 2,000 farmers and other food interests, including Ball Corp. (BLL) — maker of those canning jars and other food packaging — and Seneca Foods (SENEA) , maker of Libby's brand foods. Its members represent both conventional and organic farming interests, and range from specialty growers to major agronomic crop producers. This isn't your usual band of fringe groups making noise that no one hears. Someone might actually pay attention to them.
Don't drift on me
At issue are the weed killers that would be designed to work in tandem with specific biotech crops. There is a growing body of evidence that suggests that these weed killers cause serious injury to nearby crops, and to the habitats of bees and other pollinators. Basically, the weed-killing chemicals drift to nearby fields, and it appears they may be destroying harvests there. Interestingly, the compound Dow is using was also a component of Agent Orange, the defoliant made infamous during the Vietnam War. SOCC doesn't mince words: They say these are "the most dangerous chemicals out there."
The companies say that they are taking all possible steps to assure that these products are used responsibly. However, history has shown that they only have so much control over the behavior of end users.
It's hard to gauge how much of an impact this lawsuit could have. On one hand, Dow and Monsanto have plenty of other revenue streams, and this is just one product class. On the other, the companies are developing these products because hippies' early predictions have started to come true: There is massive growth in herbicide-resistant weeds that no longer respond to the companies' existing products — such as a little product called Roundup. If the lawsuit halts current development efforts, they are going to have to come up with something else.
Crystal ball
No one can predict the future, especially not me, but I suspect this may be the leading edge of a serious challenge to Dow's and Monsanto's product strategies. The Delta Farm Press summed up the situation neatly in a recent article title: "Days of Easy Weed Control Are Over." The companies may have to go back to the drawing board on this one. I'm steering clear.