Infowars Ireland
20/09/2011
by Ethan A. Huff
NaturalNews.com
September 20, 2011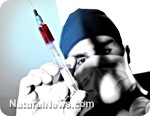 (NaturalNews) Growing and widespread public awareness about the dangers associated with vaccines has naturally resulted in the steady decline of this once-lucrative sector of conventional "medicine." And in a desperate effort to preserve the financial viability of vaccines, Big Pharma has switched gears and is now attempting to legislate the secret vaccination of young children without parental consent — and we must band together now to stop this horrendous affront to health freedom from becoming law.
According to The Healthy Home Economist (HHE), California's Assembly Bill 499 has already quietly passed both the California House and Senate, and today sits on the desk of Gov. Jerry Brown where it awaits his signature. The bill, which is only a single page in length, contains specific language that will allow children as young as 12 to opt for sexually-transmitted disease (STD) vaccines like HPV (Gardasil, Cervarix), Hepatitis B, and any future vaccines developed to treat STDs, without having to attain parental consent.

You can view a full copy of the bill, as it was passed, here:

http://www.leginfo.ca.gov/cgi-bin/p…
Read more: Pharma-backed legislation to allow secret vaccinations…
1. Stealth Vaccine Laws Allow Children to Consent to Vaccines by Alan Phillips, J.D. naturalnews.com June 12, 2011 'A current...

2. Saying No to Vaccines Dr. Sherri Tenpenny, author of "Saying No to Vaccines" shares...
3. Pig virus contaminates rotavirus vaccines, but FDA says no problem By Mike Adams, the Health Ranger Thursday, May 20, 2010...
4. Flu vaccine push already underway; first batch causes seizures in children by Mike Adams, the Health Ranger Editor of NaturalNews.com Saturday,...
5. Texas ordered to destroy five million blood samples illegally taken from babies without consent By Ethan A. Huff Friday, February 19, 2010 (NaturalNews) The...
6. Pediatricians trying to obliterate parent's right to refuse vaccinations for children by PF Louis naturalnews.com Thursday, August 11, 2011 (NaturalNews) Just...
7. U.S. government panel now pushing "vaccinations for all!" No exceptions … by David Gutierrez www.naturalnews.com Saturday, June 26, 2010 (NaturalNews) An...
8. Bill Gates says vaccines can help reduce world population by Mike Adams, the Health Ranger Editor of NaturalNews.com Friday,...
9. Institute of Medicine adverse reactions report admits MMR vaccines cause measles, seizures, anaphylaxis and other health problems by Mike Adams, the Health Ranger NaturalNews.com Sunday, August 28,...
10. H1N1 swine flu hoax falls apart at the seams (NaturalNews) The great swine flu hoax of 2009 is now...
4
/5 (
2
votes cast)