August 29, 2011 by Infowars Ireland
by Mike Adams, the Health Ranger

Sunday, August 28, 2011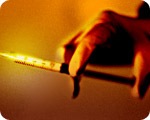 (NaturalNews) The Institute of Medicine, which has long functioned as a front group for the pharmaceutical industry and receives tens of millions of dollars in annual funding from drug companies and global elitists (like Bill Gates, Ted Turner, etc.), has issued a report that declares the MMR vaccine is not linked to autism. This is now being widely reported in the conventional (controlled) media, which isn't telling you the real story behind this report.
What's the real story? That this IOM report, even though it goes out of its way to excuse vaccines and dismiss safety concerns, still openly admits that vaccines cause measles, febrile seizures, anaphylactic shock and other potentially fatal side effects. It also admits that other vaccines are linked to a whole host of bizarre side effects, including skin lesions, difficulty breathing and live virus infections (see complete list, below).
Furthermore, the conclusion that "vaccines do not cause autism" is erroneous, as the IOM did not interview even a single parent of an autistic child and did not conduct a medical review of any autistic children whatsoever. Instead, the IOM claims to have reviewed thousands of vaccine papers published in conventional medical journals — yes, the very same medical journals that are practically run by pharmaceutical interests and have been caught publishing "scientific" articles that were really fraudulently ghostwritten by drug company hacks. (http://www.naturalnews.com/029160_m…)

In layman's terms, this is what's known as a "scientific circle jerk" where one group of bought-off scientists quotes another group of bought-off scientists as "authorities" even though they all parrot the same medical quackery of their masters — the pharmaceutical companies.
Predictably, the old dinosaur media spins the report into a complete lie
Regardless of the fact that the IOM report found a long list of side effects to be "convincingly" linked to vaccines (which is remarkable, given the IOM's pro-vaccine slant, as revealed below), the mainstream media went out of its way to twist the story around and declare vaccines are perfectly safe!
Forbes Magazine, which has long been a zombie mouthpiece for pharmaceutical business interests, ran with the headline, "Report Finds Few Side Effects For Vaccines." (Not true. The report actually found an alarming number of side effects for vaccines.)
The Sydney Morning Herald, the pro-pharma quack rag of Australia, declared "Vaccine gets another clean bill of health, but no one is listening." (A total and deliberate lie by a newspaper that maliciously lies to its Australian readers on a regular basis.)
NPR, which no one even expects to honestly report a story anymore, declared, "Report: Vaccines Are Safe, Hazards Few And Far Between." Voice of America parroted, "US Study: Vaccines are Safe." (Again, a complete fabrication. Did they even read the IOM's report?)
The trouble, of course, is that all these headlines are really more like headLIES. They fail to report what the IoM actually published in its own conclusions, and even that is a distorted version of the truth of how dangerous vaccines really are. But it surprises no one to see conventional media — the presstitutes — covering up the crimes of the deadly vaccine industry. They're all in this together, of course. It's the pharma interests that buy a significant portion of the advertising which keeps these rags in business, and if they actually told the truth about the dangers of drugs and vaccines, drug companies would pull their ads and many of these media outlets would simply collapse into financial insolvency (which is actually what they deserve, given that they only serve their corporate masters and contribute nothing to the people of society).
So they keep parroting the lies of Big Pharma and the distortions of the IoM, which as you will soon see, is an entirely untrustworthy organization that has a history of being involved in illegal medical experiments and crimes against humanity, including having its members play a role in the illegal syphilis medical experiments on Guatemalan prisoners.
5
/5 (
2
votes cast)