Article reference:
http://www.laleva.org/eng/2011/08/a_dole_strawberry_harvester_speaks_out_about_the_pesticide_methyl_iodide_we_are_not_like_animals_to_experiment_with.html
A Dole Strawberry Harvester Speaks Out About the Pesticide Methyl Iodide: "We Are Not Like Animals to Experiment With"
AlterNet
August 24, 2011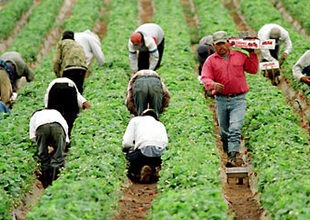 Farm worker Doroteo Lopez says, "We are working everyday to put food on people's tables so that they can be healthy. We also have the right to be healthy."
Twenty-nine-year-old Doroteo Lopez has worked on farms his whole life. Currently, he's employed by Dole in Salinas, California, where he harvests strawberries. Dana Perls, a community organizer with the Pesticide Watch Education Fund, caught up with Lopez to discuss California's approval of the carcinogenic pesticide, methyl iodide.
Methyl iodide was approved by California's Department of Pesticide Regulation in December of 2010, despite widespread opposition from the environmental and science communities. The pesticide has been linked to cancers, thyroid disease, kidney problems, and late-term miscarriages, among other health issues. While only a handful of farms have obtained methyl iodide permits, environmentalists are worried that strawberry farms will begin using the pesticide as a replacement for methyl bromide, a soil fumigant that's being phased out.
Note: This interview was conducted in Spanish and translated into English. Some words or language may have been changed in the process.

Dana Perls: Good afternoon, Doroteo! Thank you for taking the time to talk with me about your work in the strawberry fields and your experience with pesticide exposure. Let's start with something about you.
Doroteo Lopez: Thank you, Dana. I have been working with Dole for eight years now, harvesting strawberries here in Salinas. I'm 29 years old, originally from Oaxaca, Mexico, where my mother and father still live. I've worked in farms my whole life, and have lived in Salinas since 2000. And I have also been active with the United Farm Workers for at least six years. Previously, I was a worker representative, but I have since stepped back from that position. Now I continue to fight for the rights of all of the workers out here; for our health, fair wages, and to be treated well.
DP: What sort of problems have you had working in the fields?
DL: All sorts. We work hard-very hard. All of us have families, friends, and partners who have had problems with being treated poorly. Sometimes the names we are called and the way we are yelled at is terrible. We have to fight for all of our rights to fair wages, to have breaks, and to be spoken to with respect.
We have to fight for protection against toxic chemicals used in the fields. I've had terrible stomach aches, burning eyes, and dizziness from the pesticides. I've seen pregnant women in the fields be exposed, and they will vomit while at work.
DP: Is there concern about the long-term impact of these pesticides?
DL: I don't know enough. They don't tell us what the effects of the chemicals are. I see people get sick though and we know it's not good for us.
DP: In Salinas, there has been quite a lot of controversy about whether or not the newly registered and very toxic pesticide, methyl iodide, should be permitted in farming. What are your thoughts on methyl iodide and the potential impact it could have on you and other farmworkers?
DL: This is very scary. We are working everyday to put food on people's tables so that they can be healthy. We also have the right to be healthy. We hear that this [methyl iodide] is worse than the pesticides already used. If those pesticides already make us sick, we are scared about what this one will do to our children, women, and all of us. We are not like animals to experiment with.
We all need to see past the food on our plates and see the people who are suffering, who are harvesting, and who are at the most risk for chemical poisoning. We are people who deserve all the same rights to live without risking exposure to dangerous chemicals.
DP: Do you have any message that you want to tell Governor Brown regarding methyl iodide? Or a message for the people who will read your story?
DL: Yes. I am harvesting strawberries everyday for people to eat, to be healthy, and to enjoy. We need to look beyond our plates. Look at the person-me-all of us who may suffer from methyl iodide poisoning. We can't afford this.
Methyl iodide should not be allowed if there is any thought that it is dangerous for people. Scientists tell us it's unsafe. If it wouldn't be safe enough to be in food, it is not safe enough for us to breathe. The Governor needs to stop the use of methyl iodide and think about all of us who will be affected and at risk. We do not want more toxics. We do not want methyl iodide.
Governor Brown promised in March of 2011 that he would "take a fresh look" at the approval of methyl iodide, but he still hasn't honored that commitment. If you want the Brown administration to immediately rescind the approval of methyl iodide, please sign Pesticide Action Network of North America's petition on Change.org