Article reference:
http://www.laleva.org/eng/2010/12/tsa_refuses_to_release_inspection_reports_about_x-ray_machine_safety.html
TSA refuses to release inspection reports about X-ray machine safety
December 9, 2010 by Infowars Ireland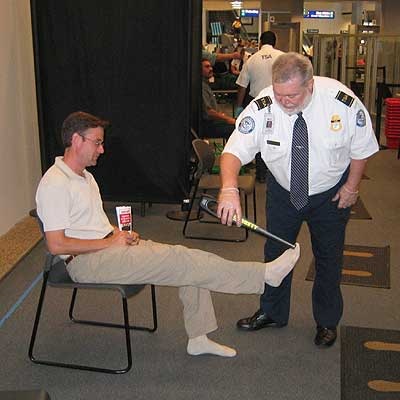 by Jonathan Benson
naturalnews.com
December 08, 2010
(NaturalNews) Airports have become a minefield of health hazards, and an investigation into airport safety has revealed that radiation emitted from various scanning machines is sometimes much higher than intended, putting workers and passengers at serious risk. And while the U.S. Transportation Security Administration (TSA) insists that the machines are safe, the agency refuses to release the actual safety inspection reports to back its claim.
The U.S. Centers for Disease Control and Prevention (CDC) conducted an investigation back in 2003 and 2004 exposing several X-ray machines that were in violation of federal radiation standards. Policy states that the TSA is in charge of inspecting its own machines, but the agency has allegedly neglected this responsibility for years, while continuing to install increasingly more X-ray machines like the new full-body scanners that emit even higher amounts of dangerous radiation.

Reporters from USA Today recently petitioned the TSA to release inspection reports for the 4,080 X-ray machines used across the country, as well as the 221 full-body scanners. But the TSA refused to release them while still insisting that they all passed inspection, even though the previous investigation had revealed that the agency has a track record of failing to identify faulty machines.
Some TSA workers have filed complaints about poor maintenance and monitoring of X-ray machines, citing high cancer rates among agency employees that regularly work near the machines. One employee requested that a hazard assessment be conducted, which the TSA denied because it said that at least three employees had to jointly make such a request for it to happen.
The TSA's blatant lack of transparency in verifying the safety of its machines points to the fact that something is amiss. Officials admit that some radiation is emitted from the machines, but that regular levels are below maximum thresholds. Even so, radiology experts say that perpetual exposure to even low-dose radiation from airport X-ray machines can lead to cancer and other health problems.
Sources for this story include:
http://www.usatoday.com/travel/flig…
Related posts:
1. Pilots Association urges airline pilots to opt out of TSA naked body scanners by Mike Adams, the Health Ranger Editor of NaturalNews.com November...
2. Airport body scanners 'could give you cancer', warns expert www.dailymail.co.uk 30th June 2010 Full body scanners at airports could...
3. Scientists Question Safety Of New Airport Scanners by Richard Knox www.npr.org May 17, 2010 After the "underwear...
4. Scanning Accepted, Not Safe Matt Ryan Infowars.com August 1, 2010 When you go to...
5. Cell phone radiation may cause brain tumour ISLAMABAD: Cell phone use in Pakistan has grown amid potential...
6. Idaho Leads State Revolt Against Naked Body Scanners New law limits use of x-ray devices, mandates pat-down alternative,...
7. Police Service of Northern Ireland to hand over secret reports on 'shoot-to-kill' policy breakingnews.ie Police in the North are to comply with a...
8. TSA turns off naked body scanners to avoid opt-out day protests by Mike Adams, the Health Ranger NaturalNews.com November 24, 2010...
9. Full-Body Scanners to Fry Travelers With Radiation NoWorldSystem A path has been cleared for the government to...
10. TSA Letter Confirms Naked Body Scanners Transmit Images Kurt Nimmo Infowars.com April 3, 2010 Earlier this year, as...