Article reference:
http://www.laleva.org/eng/2010/06/handling_of_the_h1n1_pandemic_pace_calls_for_safeguards_against_undue_influence_by_vested_interests.html
Handling of the H1N1 pandemic: PACE calls for safeguards against 'undue influence by vested interests'
Handling of the H1N1 pandemic: PACE calls for safeguards against 'undue influence by vested interests'
via Wolfgang Wodarg
Strassburg, 24.06.2010 - At the end of a debate on the handling of the H1N1 pandemic, the Council of Europe Parliamentary Assembly (PACE) today endorsed the conclusions of its Health Committee, which were published on 4 June last.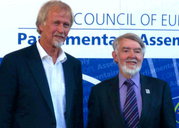 Wolfgang Wodarg (left), the initiator
of the action and Paul Flynn,
rapporteur to the Parliamentary
Assembly of the Council of Europe

According to the Assembly, the handling of the pandemic by the World Health Organization (WHO), EU health agencies and national governments led to a "waste of large sums of public money, and unjustified scares and fears about the health risks faced by the European public". The adopted text says there was "overwhelming evidence that the seriousness of the pandemic was vastly overrated by WHO", resulting in a distortion of public health priorities.
The parliamentarians identified, as did the rapporteur Paul Flynn (United Kingdom, SOC), "grave shortcomings" in the transparency of decision-making about the outbreak, generating concerns about the influence of the pharmaceutical industry on decisions taken. Plummeting confidence in such advice could prove "disastrous" in the case of a severe future pandemic, they said.
The WHO has been "highly defensive", the adopted text underlines, and unwilling to accept that a change in the definition of a pandemic was made, or to revise its prognosis of the Swine Flu outbreak. The WHO and European health institutions were not willing to publish the names and declarations of interest of the members of the WHO Emergency Committee and relevant European advisory bodies directly involved in recommendations concerning the pandemic.
The Assembly did set out a series of urgent recommendations for greater transparency and better governance in public health, as well as safeguards against what it called "undue influence by vested interests". It called for a public fund to support independent research, trials and expert advice, possibly financed by an obligatory contribution of the pharmaceutical industry. It also called on the media to avoid "sensationalism and scaremongering in the public health domain".
- - -
Here you can watch the final swine flu debate in the Council of Europe:
http://coenews.coe.int/vod/20100624_02_e.wmvhttp://coenews.coe.int/vod/20100624_02_e.wmv