Sott.net
Daily Mail
April 9, 2010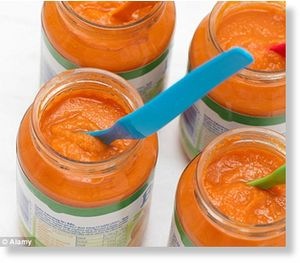 A coalition of some of the world's leading
scientists has urged the Government to bangender-bending
chemicals used in baby products.
Scientists yesterday called for a ban on a gender-bending chemical found in baby bottles and food containers.
They said clear evidence from four studies linked bisphenol A to cancer, birth defects and heart disease.

Last week Denmark became the first EU country to ban the chemical in food and drink containers for the under threes.

Some scientists believe bisphenol A, or BPA, interferes with the hormonal system by copying oestrogen.

Although some animal studies have shown it to be safe, others have linked it to diseases such as breast cancer, liver damage, obesity, diabetes and infertility.

It emerged earlier this month that Boots and Mothercare are still selling baby bottles manufactured using BPA.

And, despite the concerns, the Food Standards Agency insists there is no evidence that the chemical harms humans.

Used to make shatterproof plastic, BPA is found in baby bottles, CD cases, spectacle lenses, cutlery, sports gear and the resins that line food and drink cans.

Yesterday, eight scientists from Britain, the U.S. and Italy jointly called for a ban.

'To protect vulnerable populations, we believe it would be both prudent and precautionary in public health terms if products containing BPA used for baby and children's food and liquid packaging in the UK were withdrawn,' they said in a statement.

'BPA should be replaced by less hazardous substances.'

FACT FILE
* Bisphenol-A is used to make clear shatter resistant plastic

* It is used to make baby bottles, CD cases, spectacle lenses, plastic forks and sports equipment

* It is also used to make resins that line the inside of food and drink cans. BPA is found in dental fillings

* BPA is found in the bodies of more than 90 per cent of people

* The chemical mimics the sex hormone oestrogen. Studies have linked it to breast cancer, genital abnormalities in baby boys and liver problems.

* It is one of the most common synthetic chemicals. More than 2.2million tons is produced each year

* People are exposed when BPA leaches out of plastic into liquid - particularly when liquid is hot

* It may also escape from landfill sites into the water system

The scientists include Professor Vyvyan Howard from the University of Ulster, Andrew Watterson from Stirling University and Dr Fiorella Belpoggi of the Ramazzini Institute in Bentivoglio-Italy. They also called for BPA to be labelled in all food containers and tins.
In recent weeks, four studies have highlighted the risks of BPA and other hormone-mimicking chemicals.

Last month, a report from Tufts University in Massachusetts revealed that the majority of the population is contaminated by BPA.

A second study, from a scientific institute in Rome, linked BPA to endometriosis, a painful condition that affects two million women in Britain.

Another report from the Universityof Michigan showed how chemicals such as BPA can harm men's health.

And a fourth, by a researcher at the University of Auckland, due to be published later this month, found that even very low doses of BPA can cross from a mother to her unborn child.

Professor Watterson, who is a public health specialist, said: 'These new studies are significant because they all indicate and confirm the growing body of evidence that suggests BPA is harmful even in minute doses.

'Until we know more about the harm it could be doing, we should stop using it.'

Comment: Clearly the problem is not just with baby products. BPA is used in a wide variety of household appliances that are used for heating and cooking water and food. 90% of people have it in their bodies. It is very likely in the water supply in most countries. It is toxic, and potentially deadly to humans. Stop using plastic to heat food and water.
0
/5 (
0
votes cast)