Article reference:
http://www.laleva.org/eng/2010/03/the_deadly_cervical_cancer_vaccine_bazaar_-_health_authorities_cover_up.html
The Deadly Cervical Cancer Vaccine Bazaar - Health Authorities' Cover Up
From Tehelka Magazine, Vol 7, Issue 11, Dated March 20, 2010

YOUNG GIRLS ARE BEING GIVEN ANTI-CANCER JABS, WITH DUBIOUS RESULTS, FIND SHANTANU GUHA RAY AND KUNAL MAJUMDER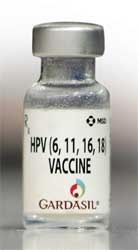 Photo: VIJAY PANDEY

EACH TIME Nageshwara and Venkatamma are asked about Sarita, the farm labourers point to a framed photograph of their daughter. And then they huddle near the entrance of their one-room house in Khammam district of Andhra Pradesh and weep inconsolably, recounting a tale of death that came home without warning.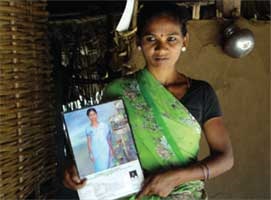 LETHAL DOSE? Maramma's daughter Sayamma died within seven weeks of being vaccinated

Photo: KUNAL MAJUMDER
On January 21 this year, Venkatamma found the motionless body of her 13-year-old daughter on the floor. At first she thought her daughter — a student of Lakshminagaram Residential Hostel — had consumed pesticide to commit suicide, possibly after a failed love affair. But the pesticide bottle was intact on the shelf. Sarita was rushed to the nearest healthcare centre where a small team of paramedics and a doctor confirmed that it wasn't a case of poisoning and referred Sarita to the Bhadrachalam area hospital, 25 km from their house in Anjupaka village. En route, Sarita had a severe epileptic fit. Doctors at the hospital declared that she was "brought dead" and conducted a postmortem. The report was not handed to the parents. At the Nallipaka Public Health Centre (PHC)—which records all births and deaths in the region — Sarita's death was recorded as suicide. Nageshwara and Venkatamma refused to accept this and cremated their daughter under protest.

"My daughter did not commit suicide. She did not consume poison," Nageshwara says firmly. "She had started having fits after the vaccine. She told us, so did the hostel supervisor. The hospital officers are lying." Dr R Balasudha, a paramedic at the PHC in the Narshapuram block under which Anjupaka village falls, adds: "Sarita was not dead when she was brought to the PHC. She did not consume any poison. She was having severe bouts of epileptic attacks and was very, very sick."

Sarita's hapless parents learned of a similar death on August 30 last year in Yerragattu village, 60 km from Bhadrachalam. Another 13-year-old, Sodi Sayamma, had died there, with doctors calling it a suicide. But Sayamma's parents, also farm labourers, said their daughter had not consumed poison or hanged herself. In both cases, the PHCS confirmed the girls had not consumed poison and referred the cases to the Bhadrachalam area hospital. Interestingly, the PHCs — one in Gowrideviteta block covering Yerragattu village and another in Narshapuram block — were responsible for administering the vaccine for the Human Papilloma Virus (HPV) in these villages.

The HPV, which is transmitted sexually, is one of the many known causes of cervical cancer. Gardasil, the commercially licensed HPV vaccine produced by Merck Sharp and Dohme (MSD), an affiliate of US-based pharmaceutical giant Merck and Co Inc, is supposed to prevent cervical cancer when administered to pre-puberty girls. The Indian unit of the Seattle-based PATH, one of the world's largest healthcare NGOs, began the HPV vaccination drive on July 9 last year as a demonstration project in Andhra Pradesh and Gujarat. Part of the goal was to vaccinate 14,000 girls in Khammam district — a large percentage of them from poor, tribal families — with three doses of Gardasil. The three zones selected in the district were Thirumalayapalem (urban), Kothagudem (rural) and Bhadrachalam (tribal).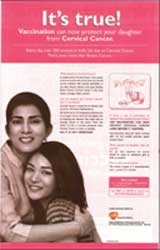 The controversial Glaxo SmithKline campaign
that was banned by the Health Ministry
BUT THE drive raises serious ethical questions. Did the producers of this drug and their field partners declare the full range of possible side-effects? Did the parents of these minors give "informed" consent? What is the criterion on which the target population for the vaccine was selected? And are there sufficient screening mechanisms in place to report and check on any "adverse events" or side-effects?
Sources in Hyderabad say that D Nagender, the Andhra Pradesh Health and Family Welfare Minister, worked closely with PATH and the Indian Council of Medical Research (ICMR) on the project. The ministry says the blocks were chosen because of high incidence of cervical cancer in the region. But this claim is disputed by many. "There is no document available to prove this. It is a blatant lie," says NB Sarojini of the Sama Resource Group for Women and Health, which, along with 80 other health networks and medical practitioners, sent a memorandum last October to the health ministry on the issue.

PATH claims the side-effects associated with the vaccine are negligible — nothing more than a "pain in the arm after a jab". However, organisations like the US-based Judicial Watch and the Vaccine Adverse Events Reporting System (VAERS), a US government body, list a range of potential side-effects associated with the Gardasil vaccine. Among them are blood clots, auto-immune disorders, seizures, epileptic fits and severe allergies.

In Khammam, besides Sayamma and Sarita's deaths, around 120 students developed complications after the vaccination — ranging from epileptic fits, allergies, diarrhoea, dizziness and nausea. News of this first began to emerge in small reports on TV 9, a regional news channel. Dr R Balasudha, a medical officer at the Narshapuram PHC, confirms this. This PHC was one of the four targeted for the drive in Bhadrachalam block from July 16, 2009 to February 28, 2010. Dr Shekhar, associated with the Nallipaka PHC, who had a target of 2,400 children but could manage only 1,800 till February 27, adds: "Many developed complications, but we don't know if they turned serious since we aren't in touch with the girls."

"This is a very serious cover-up," says CPM leader Brinda Karat, who plans to raise the issue in Parliament. "India needs to be careful about the side-effects of these vaccines and a detailed investigation should be done by the Health Ministry as to why these tribal and semi-literate girls were picked for such a drive. It is a wrong notion, nurtured by many, that tribal girls are more sexually active and hence should be targeted for such drives," says Karat, who came to know about the matter recently through the Andhra Pradesh unit of the All India Democratic Women's Association (AIDWA).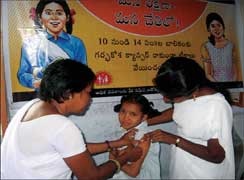 NUMBERS GAME. NGO PATH says 32,000
girls in the 10-14 age group will be vaccinated in
Khamman during the first phase
PATH, which asserts that it has followed every international guideline in conducting the demonstration project, however, seems to be trying hard to limit the damage caused by the deaths and the disclosures of side-effects. "We were only commissioned by the Welfare Department of the Andhra Pradesh Government and were not involved in physically administering the vaccine. We were the technical partner and just went along with the state government team," says a top PATH official, without disclosing the amount the organisation received to implement the demonstration project, titled the PATH-ICMR Post-licensure Observational Study of HPV vaccination funded by the Bill and Melinda Gates Foundation.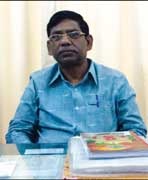 IMMUNE? District Immunity Officer Dr B Jaikumar
was responsible for the vaccination of 14,000 girls in
Khammam district
Photo: KUNAL MAJUMDER
"If there is a problem with the vaccine, it is for MSD to respond, not us," says the PATH official, adding that the NGO plans to administer the vaccine to 18,000 more girls in Khammam this year, to help determine if this vaccine can be included in the National Vaccination Scheme. "We firmly believe this is the least risky vaccine available to prevent cervical cancer and we want to help make it available to the poorest sections of our society. We are bound by confidentiality clauses and cannot reveal any details about any 'adverse events'. All we can say is that we are monitoring it very closely and there is nothing to be concerned about," says another PATH representative. "Reporting such incidents out of context will jeopardise this entire public health programme."
Shockingly, however, Dr B Jaikumar, the District Immunity Officer of Khammam and the man responsible for the drive there, says he has no idea why the region was selected. He does not have any statistics regarding major cancer incidence in the area, nor do he or his team have any means to check the effectiveness of the vaccine or measure its after affects. So why was the vaccine administered? "I am not aware of the reasons," says Jaikumar. "The Commissioner of Family Welfare said we have to do it here." Ask him if his district was being used as a human laboratory, and he replies, "The tests have been done in the international market." But Jaikumar himself has not read any international medical literature on the vaccine: It is for the state government to read such stuff, not him, he says.