Article reference:
http://www.laleva.org/eng/2008/05/firms_seek_patents_on_climate_ready_altered_crops.html
Firms Seek Patents on 'Climate Ready' Altered Crops
Common Dreams News Center
May 13, 2008
The Washington Post
by Rick Weiss
A handful of the world's largest agricultural biotechnology companies are seeking hundreds of patents on gene-altered crops designed to withstand drought and other environmental stresses, part of a race for dominance in the potentially lucrative market for crops that can handle global warming, according to a report being released today.
Three companies — BASF of Germany, Syngenta of Switzerland and Monsanto of St. Louis — have filed applications to control nearly two-thirds of the climate-related gene families submitted to patent offices worldwide, according to the report by the Ottawa-based ETC Group, an activist organization that advocates for subsistence farmers.
The applications say that the new "climate ready" genes will help crops survive drought, flooding, saltwater incursions, high temperatures and increased ultraviolet radiation — all of which are predicted to undermine food security in coming decades.
Company officials dismissed the report's contention that the applications amount to an intellectual-property "grab," countering that gene-altered plants will be crucial to solving world hunger but will never be developed without patent protections.
The report highlights the economic opportunities facing the biotechnology industry at a time of growing food insecurity, as well as the risks to its public image.
Many of the world's poorest countries, destined to be hit hardest by climate change, have rejected biotech crops, citing environmental and economic concerns. Importantly, gene patents generally preclude the age-old practice of saving seeds from a harvest for replanting, requiring instead that farmers purchase the high-tech seeds each year.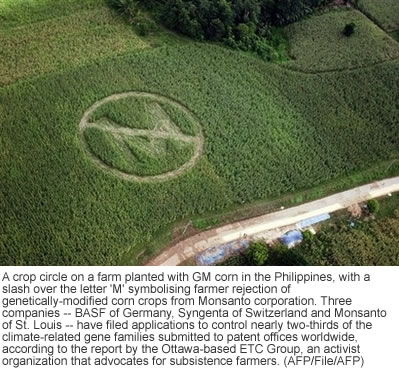 The ETC report concludes that biotech giants are hoping to leverage climate change as a way to get into resistant markets, and it warns that the move could undermine public-sector plant-breeding institutions such as those coordinated by the United Nations and the World Bank, which have long made their improved varieties freely available.
"When a market is dominated by a handful of large multinational companies, the research agenda gets biased toward proprietary products," said Hope Shand, ETC's research director. "Monopoly control of plant genes is a bad idea under any circumstance. During a global food crisis, it is unacceptable and has to be challenged."
Ranjana Smetacek, a spokeswoman for Monsanto, said companies deserve praise for developing crop varieties that will survive climate change.
"I think everyone recognizes that the old traditional ways just aren't able to address these new challenges. The problems in Africa are pretty severe," she said, noting that Monsanto and BASF are participating in a project, funded by the Bill and Melinda Gates Foundation, to develop drought-resistant corn that would be made available to farmers in four southern African countries royalty-free. "We aim to be at once generous and also cognizant of our obligation to shareholders who have paid for our research," Smetacek said.
Gene patents allow companies to limit others from marketing those genes. The 35-page ETC report, "Patenting the 'Climate Genes' . . . and Capturing the Climate Agenda," documents about 530 applications for climate-related plant genes filed at patent offices in the past five years. A few dozen patents have been issued; hundreds of others are pending.
Of the 55 major gene families at the heart of those applications, BASF filed 21, the report says. Other major players include Syngenta, seven; Monsanto, six; and Bayer of Germany, five.
Among the report's concerns is the breadth of many applications. Protective genes are usually discovered in one variety of plant, and after minimal testing they are presumed to be useful in others, Shand said. In one typical case, a BASF patent claim for a gene to tolerate "environmental stress" seeks to preclude competitors from using that gene in "maize, wheat, rye, oat, triticale, rice, barley, soybean, peanut, cotton, rapeseed, canola, manihot, pepper, sunflower, tagetes, solanaceous plants, potato, tobacco, eggplant, tomato, Vicia species, pea, alfalfa, coffee, cacao, tea, Salix species, oil palm, coconut, perennial grass and a forage crop plant."
Publicly funded developers of freely accessible plant varieties could succumb to biotech's market dominance, the report warns. One of the biggest is the Consultative Group on International Agricultural Research, which runs 15 research centers worldwide and is funded by several international aid organizations. CGIAR has long emphasized non-biotech breeding to develop varieties ideal for subsistence farmers and their local conditions.
Facing big budget cuts from its traditional funders, CGIAR is now a central player in the Gates-funded collaboration with Monsanto and BASF — a project that a CGIAR spokesman defended as a "global public good."
Other experts said that both sides have oversimplified the pros and cons of biotech crop patents.
"I don't mind Monsanto developing these tools. I mind that we don't have an economic ecology that lets other companies compete with them," said Richard Jefferson, founder and chief executive of Cambia, a nonprofit institute based in Australia that helps companies worldwide sort through patent holdings so they can build on one another's work instead of stymieing one another.
Under the current system for patenting genes, he said, "the little guys shake out and the big guys end up in a place a lot like a cartel."
Jefferson characterized the ETC report as extreme in its anti-corporate views but praised it for drawing attention to what he said is a real problem of corporate consolidation in the seed industry. Happily, he said, patent offices are "getting a lot better" about not allowing overly broad gene patents.
Jonathan Bryant, managing director of BASF's U.S. division, said plants have tens of thousands of genes, most of them unexplored. "I think there's still plenty of opportunity for many companies and institutions," he said. "We're all looking to bring our technology together for a common good."