Article reference:
http://www.laleva.org/eng/2004/06/vaccinations_risks_gulf_war_syndrome_probe_planned.html
Vaccinations Risks: 'Gulf War syndrome' probe planned
'Gulf War syndrome' probe planned
An independent inquiry is to be held into the plight of thousands of British troops who reportedly suffered ill health after the first Gulf War.
Monday, 14 June, 2004
Source: News BBC
It will be headed by retired judge Lord Lloyd of Berwick, who will question veterans, relatives and doctors.
More than 5,000 British veterans have reported illnesses which they believe may have been caused by vaccines or exposure to chemicals.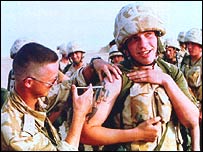 Many soldiers had numerous injections
The government has never acknowledged the existence of Gulf War syndrome.
Lord Lloyd, a former Lord Justice of Appeal, was called upon to head the inquiry by Lord Morris of Manchester, who is honorary parliamentary advisor to the British Legion.

Vaccinations
Lord Lloyd said that although the government had claimed it was not closed to an inquiry, it had "repeatedly resisted one".
He said he intended to open the inquiry as soon as possible and to hold hearings in public.
The Legion first called for a public inquiry into the illnesses surrounding the 1991-1992 Gulf War veterans seven years ago.
Lord Morris, who announced the inquiry, said the Legion had repeatedly called for an inquiry into the reported illnesses from the first Gulf War.
He said: "With 2,585 veterans - many now terminally ill - already in receipt of war pensions, and over 5,000 reporting a wide range of undiagnosed illnesses, there is clearly a major problem to be addressed."
He said many veterans, now in failing health, found themselves locked in a long battle to have their illnesses accepted as war related.
'Whitewash'
A spokesman for the British Legion said he was "delighted" by the announcement and said his organisation would support the inquiry in any way it could.
But he said it was disappointing that an inquiry could not have been held sooner and its findings used to improve procedures to prepare troops for current operations.
The National Gulf Veterans and Families Association gave a cautious welcome to the news.
Chairman Shaun Rusling said: "My first concern would be that the scope of the inquiry would be narrow and we would get a whitewash.
"That is something we would find unacceptable - it has to be a fully open and complete inquiry and nothing withheld from the public."
He added: "I would very much like to see, for all my members, full medical care and proper pensions.
"It's absolutely despicable to make these soldiers fight for these pension rights and entitlements."