NaturalNews
September 14, 2011 by: PF Louis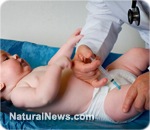 (NaturalNews) Another potentially hazardous vaccination, Menactra, purportedly protecting against an extremely rare disease, meningitis, has been FDA approved for children aged 9 to 23 months. This brings the total vaccine inoculation schedule to over 20 within the child's first two years. And there are more to come by age five and more after that.

Vaccines Benefits are Questionable
Most of the childhood diseases supposedly protected by vaccinations come and go without significant damage. Many graphs have demonstrated that serious diseases had already declined naturally and all but disappeared by the time the vaccines for them had been introduced.
As a matter of fact, exposure to many minor childhood diseases causes better long term immunization than vaccinations pretend to offer. There have been actual reports of 90% plus MMR (measles, mumps, rubella) vaccinated populations having breakouts with mumps and measles. Rubella hardly happens at all.