OpedNews
March 25, 2008
by Frosty Wooldridge
If you should see this amazing floating pile of plastic in the Pacific Ocean, it's called "The Great Pacific Garbage Patch." It features three million tons of plastic debris floating in an area larger than Texas. An eye-popping 46,000 pieces of plastic float on every square mile of ocean! Humans toss another 2.5 million pieces into our oceans hourly.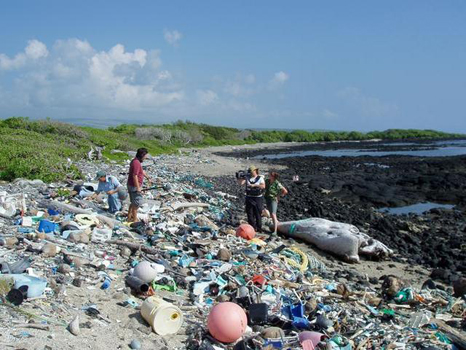 Captain Paul Watson, www.seasheperd.org, composed an essay, "The Plastic Sea." He wrote a penetrating piece on humanity's desecration of our oceans. If you ever see this plastic 'monster' as I have, it will sicken you to the core of your soul. But the terror it manifests sickens you further!
"On the beach on San Juan Island, Washington, Allison Lance walks her dogs every morning," Watson said. "She carries a plastic bag in her hand to carry the bits and pieces of plastic debris she picks up. Each morning she fills the bag, but by the next morning there is always another bag to be filled. Joey Racano does the same in Huntington Beach further south in California. The harvest of plastic waste is never-ending. Allison's and Joey's beaches, and practically every beach around the world is similarly cursed.