scotsman.com
June 1, 2009
By Marisa de Andrade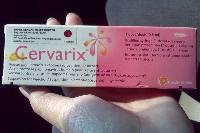 MORE than 150 girls in Scotland have suffered adverse reactions after receiving the cervical cancer vaccine introduced last autumn, The Scotsman can reveal.
Campaigners are calling for the vaccination programme to be suspended, claiming there are unanswered questions about the long-term effectiveness and safety of Cervarix, the drug used for the vaccine. They are concerned that official information refers to mild side-effects, when some girls have reported serious reactions to the jab.
The families of six girls in England are suing GlaxoSmithKline (GSK), the maker of Cervarix, after the girls suffered severe reactions resulting in partial paralysis, seizures and chronic fatigue. The Scotsman has learned two more have contacted the same solicitor after suffering severe painful swelling of joints.