March 11, 2010
Flu shots futile: study
By Tom Blackwell
Nursing Home Test: 'Didn't find' proof immunization stops virus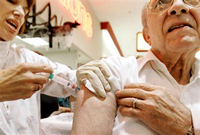 Study co-author Dr. Tom Jefferson says he
"can't see any reason" for vaccinating anyone
against flu -- arguing the shots did nothing to
save lives -- and that most influenza-vaccine
studies are "rubbish."
A new Canadian-led study has added to a simmering scientific dispute over flu-shot campaigns, concluding that immunizing nursing-home workers does nothing to cut the number of confirmed influenza cases among the homes' elderly residents.
Coming at the end of the largest flu-vaccination campaign in Canadian history, the review of previous studies calls for stepped-up research into alternative, lower-tech ways to combat the virus, such as improved hand washing.

"What troubled us is that [shots] had no effect on laboratory-confirmed influenza," said Dr. Roger Thomas of the University of Calgary, lead author of the paper published by the respected Cochrane Library.