International Medical Veritas Association
March 19, 2010


Confronting the Dark Side of Medicine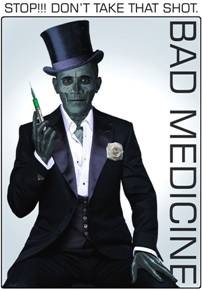 Modern medicine in the United States today is putting

people in their graves in large numbers but before it
does the system is increasingly beating them into bankruptcy.
Not everyone is able to look at the dark side of them selves, and doctors are no exception in this regard. But without such a journey it is almost impossible to fully understand the darkest side of humanity being expressed in the world of medicine. Most people in fact actively avoid looking at their own weaknesses and negativity and find no problem with pointing the finger elsewhere. Many would have us concentrate only on the positive, hoping that the bad guys would stop doing harm and just go away. Unfortunately the unlooked at dark side has the bad habit of hitting us from behind, blindsiding us to the point of extinguishing our lives.
The medical establishment attacks people with sometimes lethal drugs and vaccines and condones dentists who continue to put mercury toxic waste dumps in people's mouths. Death by Medicine is not uncommon these days and the healthcare reform bill in the United States does nothing to address the western medical system seems to butcher more people than it helps.