By Jill Richardson, AlterNet
September 13, 2010
This salmon would be the first genetically engineered animal to enter the U.S. food supply, and the science behind its approval process is frightening.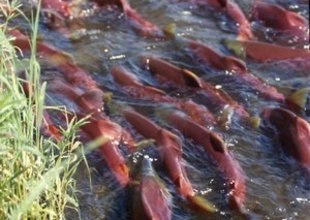 When the FDA announced it found the genetically engineered AquAdvantage salmon safe just before Labor Day, news headlines and even Alaska Senator Mark Begich called it a "frankenfish." A closer look at AquAdvantage makes it seem unlikely that Mary Shelley could have ever dreamed up anything as wild as the fast growing GE salmon. Even more worrisome is the science used to justify the salmon's safety, which Consumers Union senior scientist Michael Hansen calls "sloppy," "misleading," and "woefully inadequate."