November 25, 2010 - Byron Richards, CCN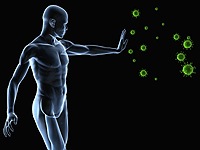 The healthy function of your lymphatic system is required for an optimal immune response. Millions of Americans struggle with a sluggish and stagnant lymph system. This is because your lymph system, in addition to its immune-related chores is also involved with clearing trash and the absorption and transport of fat. The speed with which you mount an immune response, can be drastically impaired by poor lymph function. It is worthwhile to understand how well your own lymph system is working.
During the course of infection, cells that have identified an invader—such as the dendritic cells of your front line immune troops—must migrate into your lymphatic system and present their findings to a sub-group of lymphocytes called T Helper cells that are residing within lymph tissue.